This week, toymaker Flair has taken over to introduce the super-smart, irresistibly cute soft toy that's just been released: the Mindful Lil Minds Breathing Meditation Buddy.
Suitable for ages 3-years-plus, Mindful Lil Minds Breathing Meditation Plush is a brand-new toy that's designed to look like a cute and cuddly soft toy koala… with a special twist! This brilliant toy will help children practice mindfulness.
What is mindfulness and why is it helpful?
The team behind Headspace, the mindful meditation app, describe mindfulness as "learning how to be fully present and engaged in the moment, aware of your thoughts and feelings without distraction or judgment." It's becoming a very common practice in classrooms, as studies have suggested practicing mindfulness from a young age has a positive effect on decreasing anxiety and increasing cognitive performance.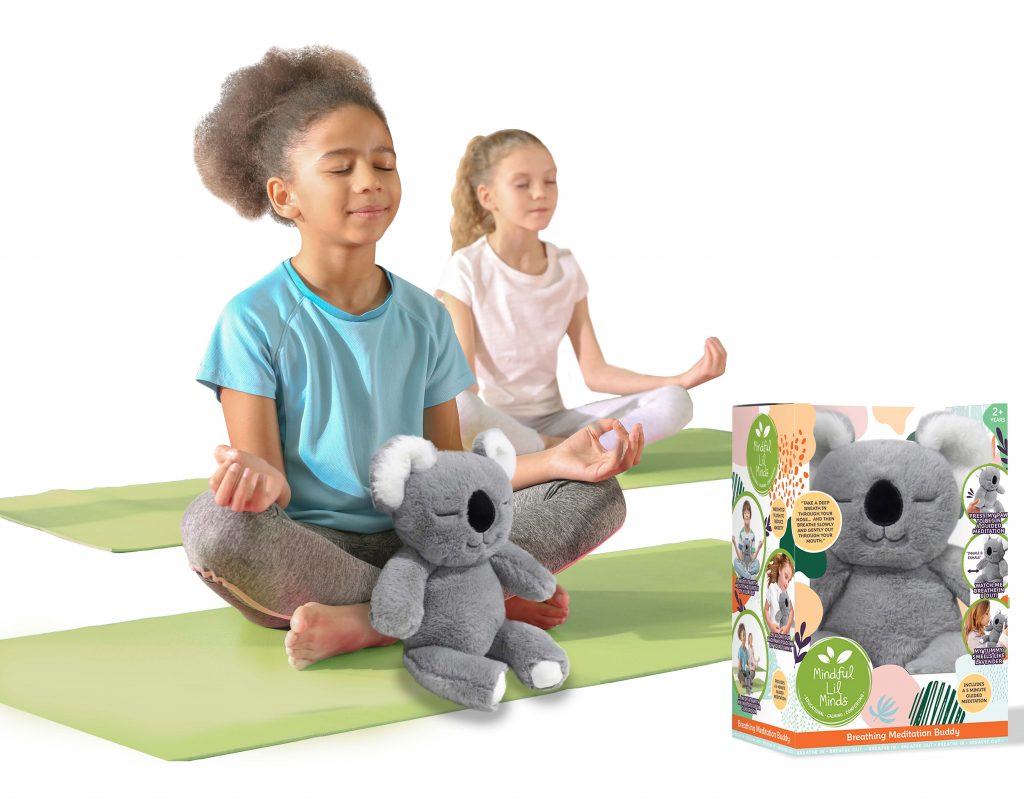 About Mindful Little Minds Breathing Meditation Buddy
Mindful Lil Minds Breathing Meditation Buddy is a very clever koala, who will help young children become more present, offering them strategies to manage their emotions in stressful situations. Kids can press the koala's paw to begin a five-minute breathing meditation – the perfect amount of time to allow the child to calm down without losing interest.
This adorable cuddly guy also breathes with your child; its diaphragm expands and retracts in time with the guided meditation, providing a visual breathing guide for children to follow.
The toy's belly is lightly scented to smell like eucalyptus, which has soothing aromatherapy properties, helping to reduce anxiety and encouraging relaxation into the meditation. This super soft toy has floppy limbs and is great to cuddle. It has a weighted beaded bottom to make him cuddlier and all the more comforting, designed to further lower anxiety, especially for those on the autism spectrum.
It's never too early to promote self-care and mindfulness, so if you've got a young child at home, this is a must have! If you'd like to get your hands on this brilliant toy, It'll be available soon online from Amazon and Very and in-store in your local independent stores.
To carry on the fun with Mindful Lil Minds, head back to the main takeover page here.