Let's face it, kids don't always manage to keep their paint on the page, but thanks to Paint Pop Paint Sticks, painting needn't be messy!
Paint Pop Paint Sticks are the perfect introduction to painting and doodling. They're bright and colourful, and create no mess, offering a happy experience for all! They are fast-drying, often in under 60 seconds, reducing the likelihood of smudges and transferring paint. Plus, the smooth, glide-on paint works without needing water or brushes, making for easy clean up afterwards.
To get creating, kids simply twist and paint. They're a nice, chunky shape that makes them ideal for little hands. Plus, they're convenient and versatile – they work on multiple surfaces and can be used to create lots of effects.
All Paint Pop products contain a variety of vibrant colours. All the paints are water-soluble and non-toxic, and all packs and tubes are readily recyclable.
Loving the sound of Paint Pop Paint Sticks so far? Here are some of our favourite products below!
Paint Pop Paint Sticks Creation Station (RRP £24.99)
This table-top easel comes with everything needed for mini artists to create masterpieces: Creation Station, 6 Paint Pop Paint Sticks, a wipe-clean duster, and 10 sheets of A4 paper. The Creation Station is double-sided, so creative times can be enjoyed with friends! One side has handy clips to hold paper, while paint can be applied directly to the whiteboard on the other. Store, fold and carry! It can be used at home and on-the-go.
Paint Pop Paint Sticks Fun Tub (RRP £12.99)
The Fun Tub comes with 20 Paint Pop Paint Sticks (12 Classic, 6 Neon and 2 Metallic colours) – all packed into an attractive and practical storage container, complete with carry handle for convenience – take them with you! The Fun Tub offers great value in a great pack and makes a fabulous gift!
Paint Pop Paint Sticks Giant Storage Tube (RRP £19.99)
Get your hands on ALL 30 colours in the Paint Pop portfolio: 12 Classic, 12 Metallic and 6 Neon colours. The Giant Storage Tube is fantastic value and it's perfect for storing Paint Pop Paint Sticks after use… ready for next time!
Paint Pop Paint Sticks also come in a 24 Pack, a 12 Pack, and 6 Packs (RRP £14.99, £7.99, £4.99)
The 24-pack comes with 12 Classic, 6 Neon colours and 6 Metallic colours. The 12-pack includes 12 classic colours and you can pick up 6 classic or metallic colours via the 6-packs.
Paint Pop Face Paint Sticks (RRP £9.99)
Make face painting easier! The silky-smooth paint is inside the stick, so simply twist and paint! Included are 12 Face Paint Sticks, including bright and vibrant colours and white and black to add detail, along with a brush for those even finer ones. The face paint is carefully formulated to be safe on skin and is non-toxic. It can also be removed with a few gentle wipes. Pack includes easy to follow steps to create 12 wonderful characters.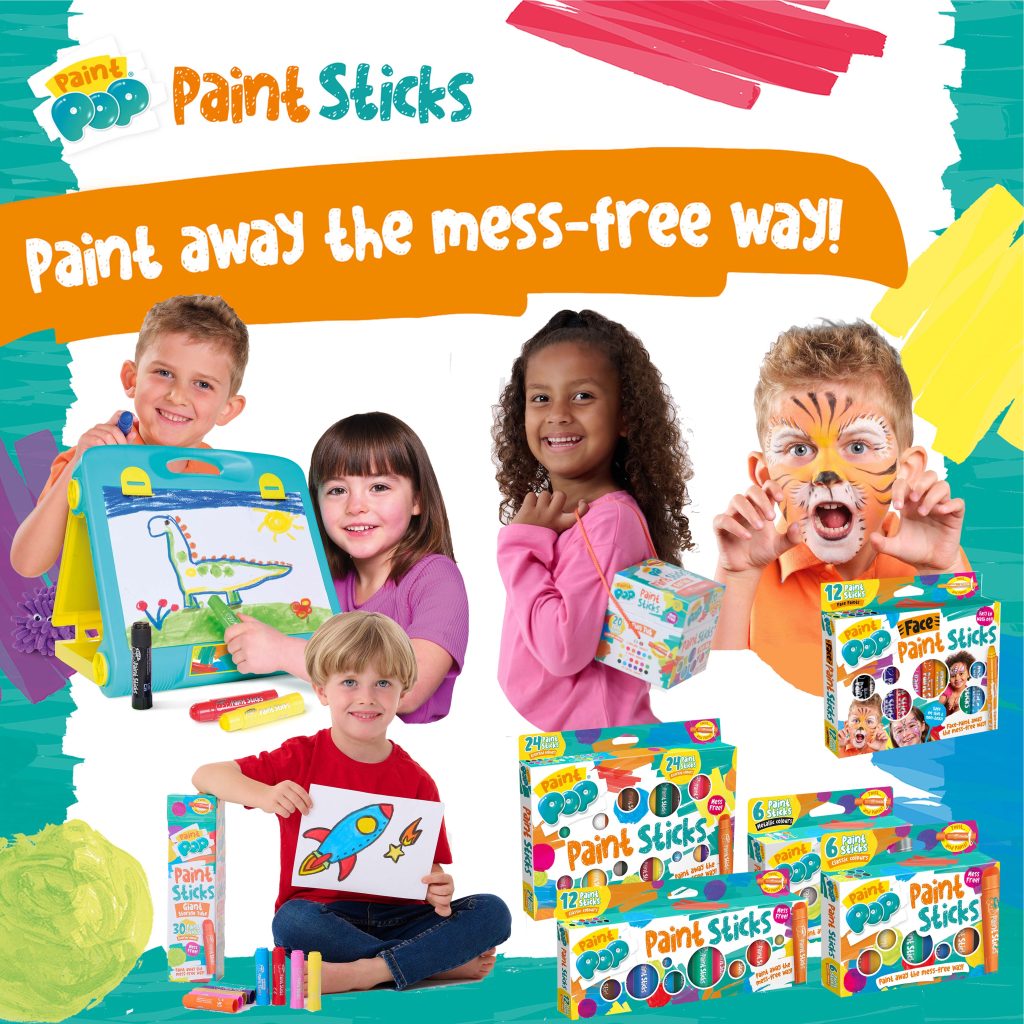 If you love the look of Paint Pop Paint Sticks, don't miss your chance to win some goodies from the range in our on-site competition! Head back to the mini-hub takeover page to find out more.
Main image credit: @ChillingWithLucas