We're not wanting to think too much about getting ready for school — and the inevitable changing seasons —but, instead, trying to eke out the summer and relish each and every day left of August. If sipping cocktails from a gin tea cup and playing lawn games is your jam, you'll love this little round up.
We've gathered together a little selection of some of the things we've been enjoying and using this month.
Here's what we're loving in August…
We're Watching
The kids are loving DC Super Hero Girls on Cartoon Network on weekday mornings; Sky 601, Virgin 704 and NOW.
It follows the adventures of teenage versions of Wonder Woman, Batgirl, Bumblebee, Supergirl, Green Lantern, and Zatanna who are students at Metropolis High School.
If you love superheroes — and high-school dramas — this one's for you!
We're Reading
We've been really enjoying the beautiful words and pictures in WILD SUMMER: Life In The Heat by Alex Morss and Sean Taylor.
We've just interviewed them for our Coffee Break With The Author feature — it will be coming up on the site in the next few days, so watch this space.
We Also Love…
Creating miniature watercolour pieces with Art Lab's clever Watercolour Art Studio is such a fun way to spend an afternoon. It's packed full of fantastic accessories to help you have fun and develop your artistic flair.
Everything you need is inside the box and use the handy guide to inspire you to take your artwork to new levels of creativity.
Check out everything else we're loving this month…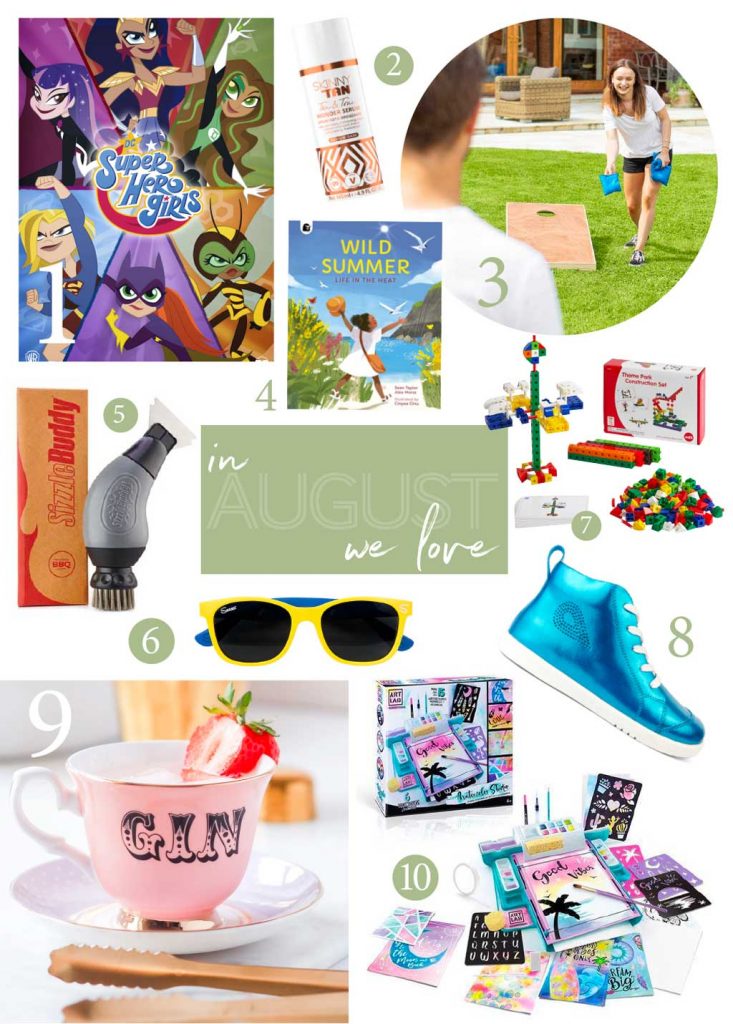 1. New episodes of DC Superhero Girls; available to watch on Sky 601, Virgin 704 and NOW | 2. Wonder Serum Express, Skinny Tan RRP £31.99 | 3. Harrier Cornhole Board set RRP £179.99 | 4.
Wild Summer: Life in the Heat (Hardback), by Alex Morss and Sean Taylor, RRP £12.99 | 5. Sizzle Buddy, RRP £18.99 | 6. Suneez Kids' Sunglasses, RRP £25 | 7. EDX Theme Park Construction, RRP £52.99 | 8. Peacock Leather Alley-Oop Boots from Bobux, £49 | 9. Gin Tea Cup and Saucer, Yvonne Ellen, RRP £25 | 10. Art Lab's Watercolour Art Studio, RRP £22.99