Fancy the idea of hosting an awesome Teepee Party at home? From birthday parties to virtual sleepovers, all the way through to fun camp outs with the fam, a Teepee Party is great for all occasions! But where to start?
If you're looking for some great ideas keep the kids entertained, you're in the right place. As part of Smoby's super-exciting UKMums.TV takeover, the team has put together a terrific guide for throwing a show-stopping Teepee Party at home! So, read up, stock up, and get ready to throw the Teepee Party of the season.
What do you need to get started?
If you're going to throw a Teepee Party the first thing you'll need is a Teepee! And we've got the perfect Teepee for the job!
Introducing the Smoby Teepee Playhouse (RRP £179.99), which will be available from Argos, Very and Amazon – just in time for spring! The all-new Smoby Teepee is one of kind! It's the first plastic Teepee on the market, meaning that it can be used both indoors and outdoors. What's more, it not only looks great with its beautiful modern design, but it's also designed for long-lasting fun, thanks to its adjustable sizing. Parents can tailor the height of Smoby's Teepee, taking it from 1.59m to 1.83m tall. As a result, this clever little play area is ideal for kids aged two-years-old right up to the age of 10 (and possibly a few adults too!).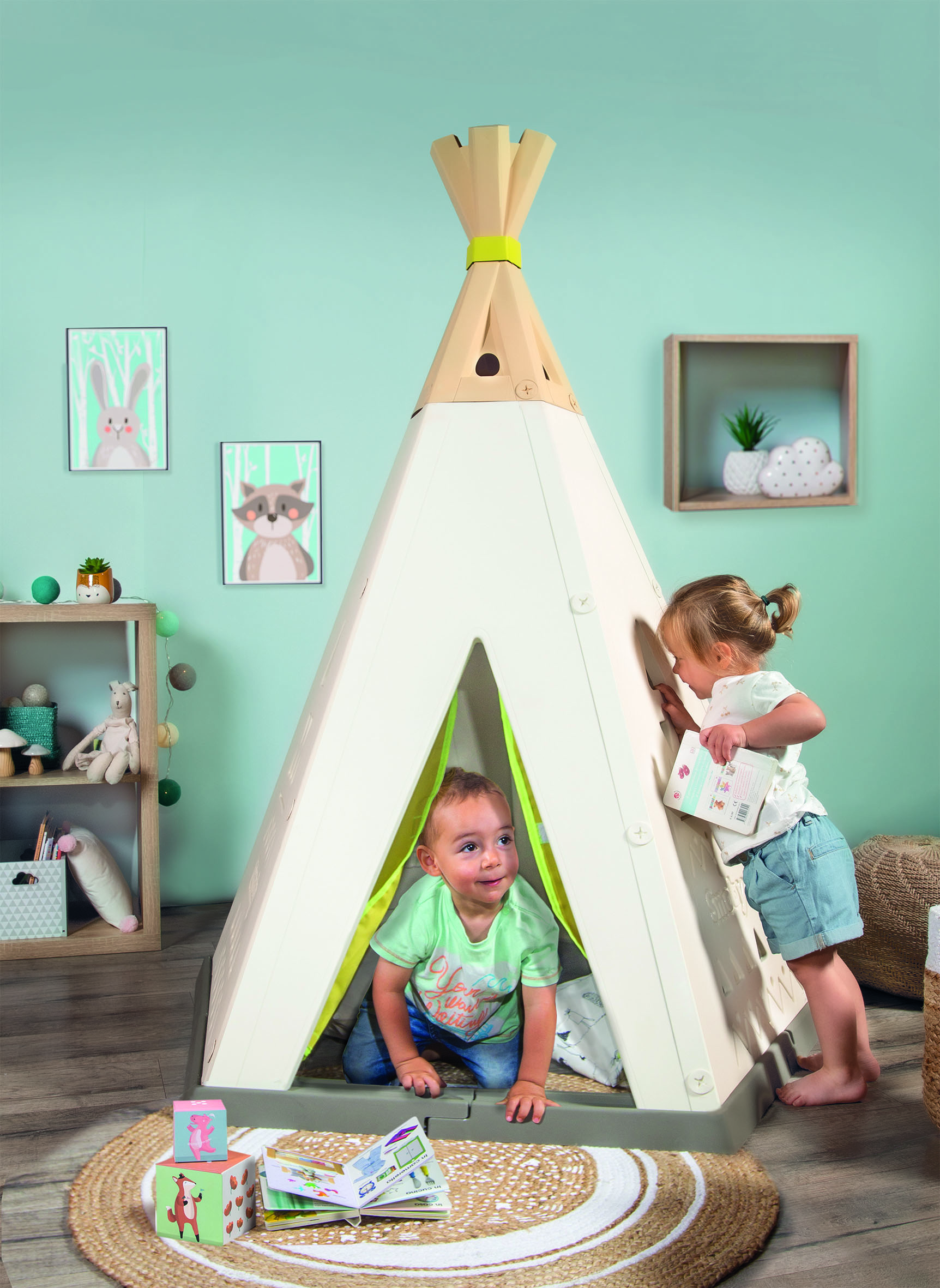 Now for some fun ideas!
You've invested in a Teepee and now it's time for some fun! Here our some of our favourite Teepee Party ideas to get you started!
Teepee Birthday Party
If your child's birthday is coming up, you might be thinking that this year's party could look a little different to other years. Perhaps you'll be hosting it virtually? Or maybe it'll be a family affair? Whatever you decide, this Teepee Birthday Party idea will help liven things up!
To create the perfect Teepee Birthday Party, start by picking a colour scheme or theme – check out the inspo below! You'll want the space to feel super cosy, so make sure you've got some blankets, cushions, and perhaps some fairy lights too! Of course, you'll also need the mandatory birthday balloons and snacks – as well as a few board games and puzzles to while away a few fun hours!
Teepee Staycation!
Getting away may not be an option for some families this year, which means a certain level of creativity will be required! How about setting up a garden campsite in your back garden? Your family can pitch their tents and Teepees and enjoy a couple of nights under the stars. And if you're looking for something to do in the daytime, check out Smoby's awesome outdoor toys! From slides to playhouses all the way through to ride-ons, there's something for all families to enjoy!
Still need a bit of inspo? Follow the Teepee Party trend…
Teepee Parties are all the rage right now – there's event planners that specialise in them! So if you're a little stuck on ideas and themes for your Teepee Parties, check out these snaps for some inspo. Credit to Inspired By This, Slumber Buddiezzz, My Kids Teepee Party, and Wigwam Wonderland for all of these wonderful ideas!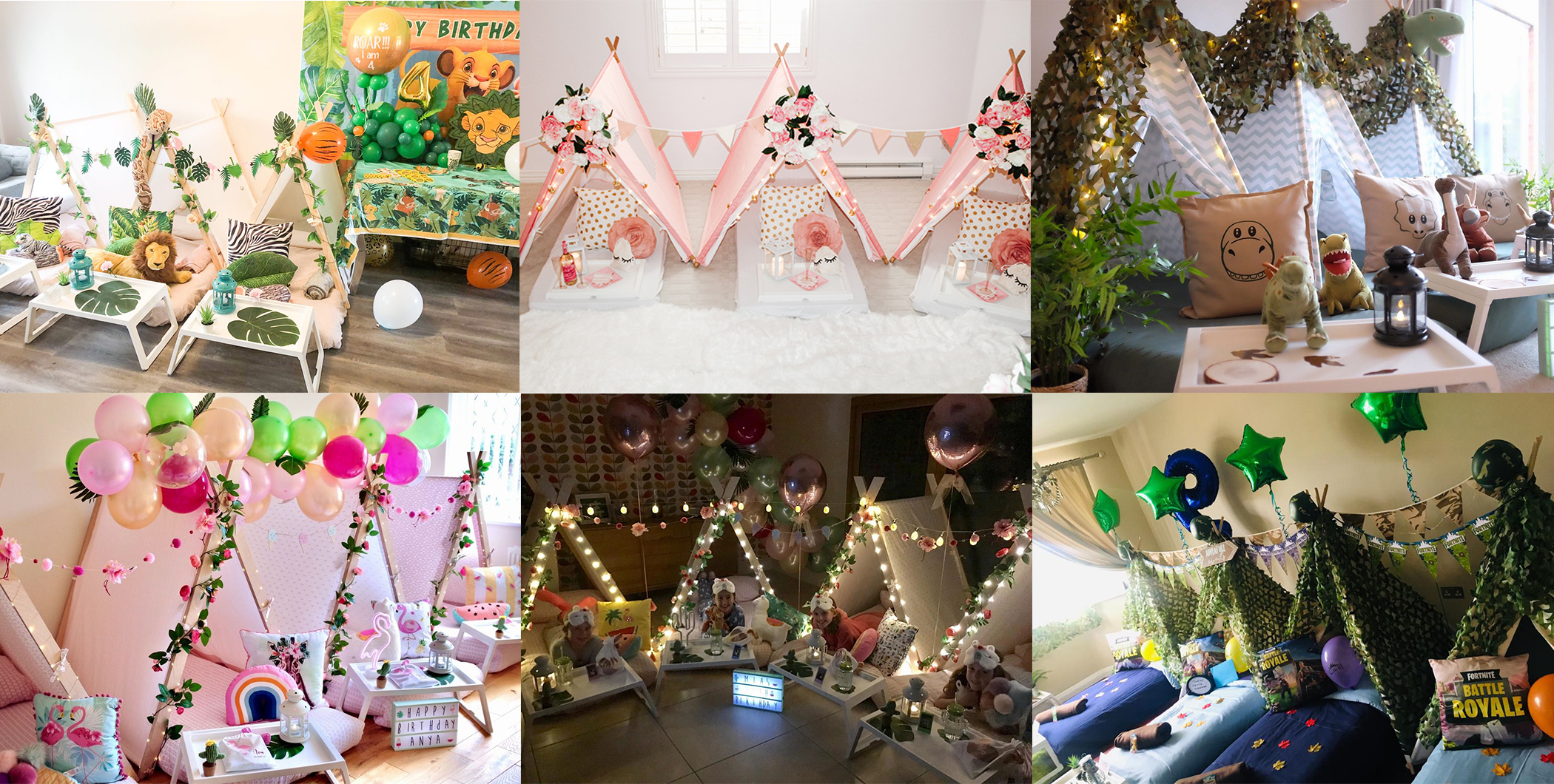 Don't forget to share your Tee Pee Party pictures on our Facebook/Twitter pages!
To head back to the main takeover page, click here – there's competitions, free downloads and plenty more to discover from Smoby!