This week, on UKMums.TV, we're joined by the team at Cartoonito for an introduction to their brilliant new children's series: Lucas the Spider!
Cartoonito is the place where pre-schoolers are free to be whomever they want; it's also a space where kids can experience belly laughs and draw outside the lines, and where compassion, empathy and inclusion are championed. Cartoonito celebrates the youngest kids exactly as they are and embraces their individuality and originality. And when watching Cartoonito, kids and their parents can enjoy together trusted characters and friends, stories from leading voices, brand new original series, and a whole lot of laughter!
The channel has plenty of great content for kids to discover, with something for everyone, whatever their differences! And now, having launched on 2nd May, kids can tune into a brilliant new addition to the channel – Lucas the Spider.
Premiering this month, on the channel every weekday, at 6:00pm, Lucas the Spider is overloaded with cuteness, humour and awe! This is a series invites children to laugh, sing and see the world anew from a teeny-tiny, bright-eyed view.
Kids may recognise Lucas, the adorable, fuzzy-bottomed jumping spider from the smash-hit shorts that were aired on YouTube prior to the series being commissioned as a TV series. And now they can join him on his wonderous travels as he explores his exciting world, a big Victorian home and garden, and leaps head-first into adventure and discovery. Families will love Lucas the Spider's gentle, warm-hearted tone, and the lessons that it teaches of inclusivity, curiosity, and making the most of every moment.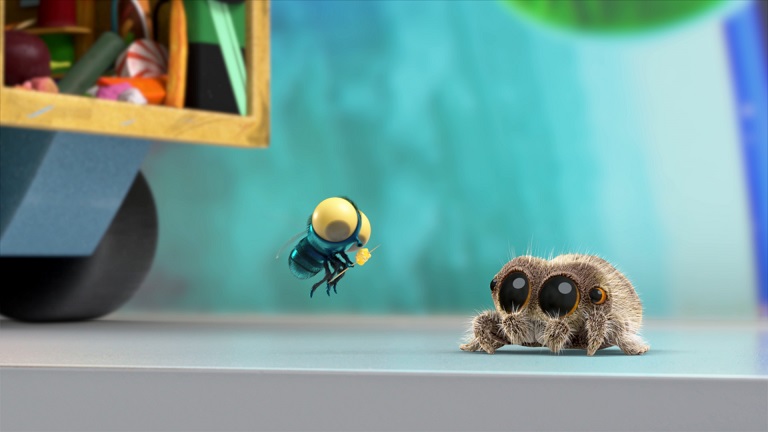 The show deals with a host of key themes, including friendship, individual differences, as well as exploration, adventure and discovery, which is pretty appropriate for an audience of preschoolers who are all still discovering the wonderous world around them! It is a show that is very much relatable to its audience, and children will love meeting all the sweet characters from the show. For a quick overview of who's who in the show, have a read of our "Meet the characters from Lucas the Spider".
Love the sound of Lucas the Spider? Tune into the series weekdays at 6:00PM, on Cartoonito.
To continue the fun with Lucas the Spider, head to the main takeover hub HERE.