This week, we're joined by toymaker Simba Toys UK who is bringing you a fortnight of fun with the Masha and the Bear Toys Takeover!
Masha and the Bear is the children's animated television series, which focuses on the adventures of a little girl named Masha and her kind and caring friend, the Bear.
As you might imagine, the Masha and the Bear toy collection has been an absolute s'Masha hit (sorry, couldn't resist!) for little fans! This loveable range brings the show to life, with its fabulous selection of Masha Dolls, a cute choice of Bear Plush toys, collectables and playsets! Head to our product guide to learn more.
But first, check out what our mums thought of the range… after all, peer reviews are worth their weight in gold when it comes to deciding whether to buy something! If something has already been tried, tested and recommended by a like-minded family, it can offer that extra level of reassurance that the product is as great as it sounds and looks in-store or online!
So, get comfy, here are our favourite reviews from some of the UK's top parental bloggers and influencer families…
Pretty Big Butterflies
Hollie from Pretty Big Butterflies is a mum of two boys under the age of three, so it can be a challenge to keep them both occupied and entertained! Luckily Simba Toys UK was on-hand… Hollie received a selection of Masha and the Bear goodies for the kids to enjoy. Here's what she thought from a mum's perspective:
"It's the [Masha and the Bear] playset that gets the most attention from both of [my boys]. Every day they make a routine of playing with Masha, Bear (both articulated figures) and the snowman that lives outside the house. Marlo likes to feed all of the characters, while Cameo likes to take them adventures around the front room and then return home for them to watch TV. It's a great playset with lots of movable parts and it looks exactly like Bear's house on the TV!"
Read the full review here.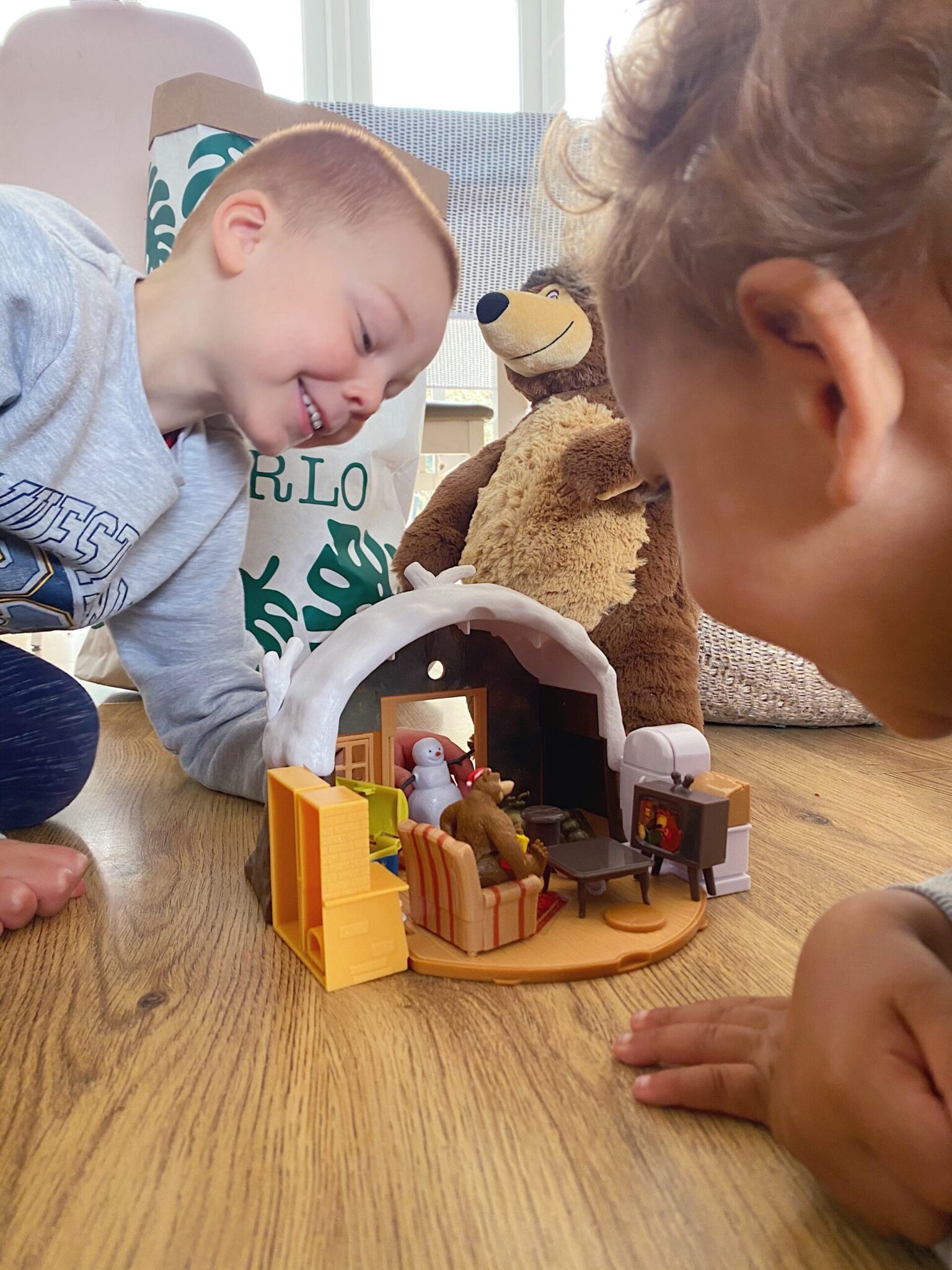 Mrs C And The Three Cubs
Laura, the mummy behind Mrs C And The Three Cubs parental blog, also received a Masha and the Bear toy bundle for her three children to enjoy. Here's what they thought:
"Ivy is a fan of Masha and the Bear and had watched all the episodes so when we was asked to review obviously I had to say yes. I took Ivy to Smyths Toy store as a surprise and when I told her she could choose toys from that's right you guessed it Masha and the Bear section she was rather excited…"
Read the full review here.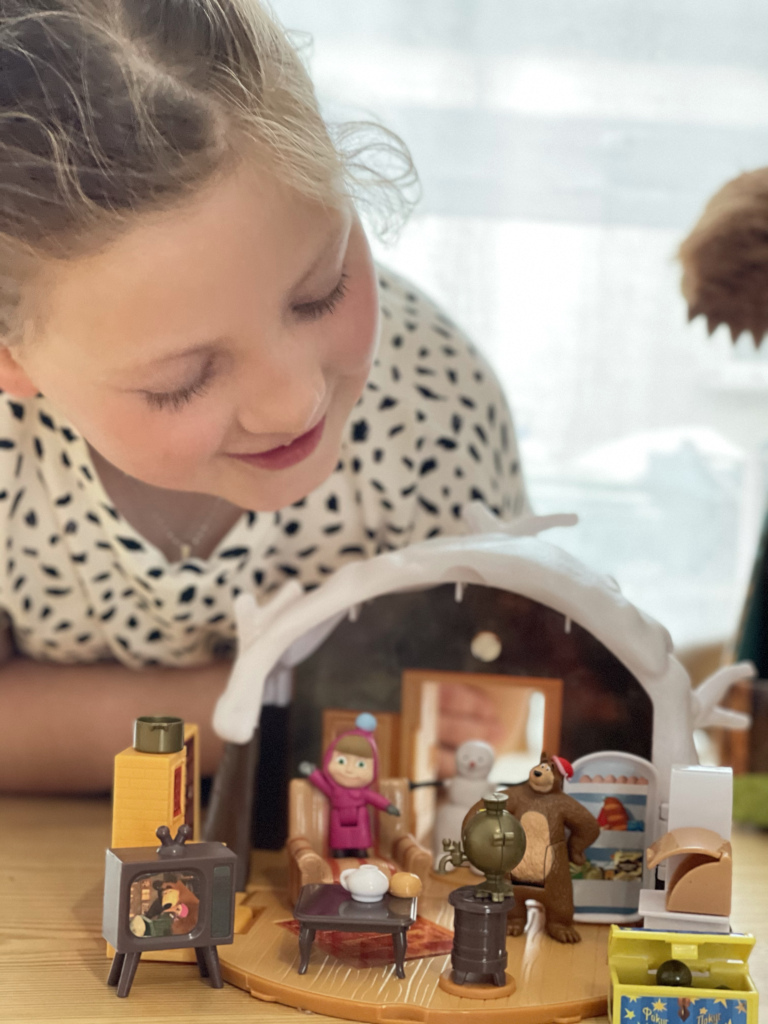 Three Little Zees
The family behind Three Little Zees couldn't wait to play with their new Masha and the Bear toys. Learn what they thought of them in their review:
"These toys are so perfect for re-enacting scenes from Masha & The Bear. My little girls had fun taking it in turns to be Masha and the bear with the Small Masha Doll and both being the bear with the plush toys and the tree house. My youngest Zayah enjoyed taking Masha's shoes on and off and also her hood and dress which can be removed."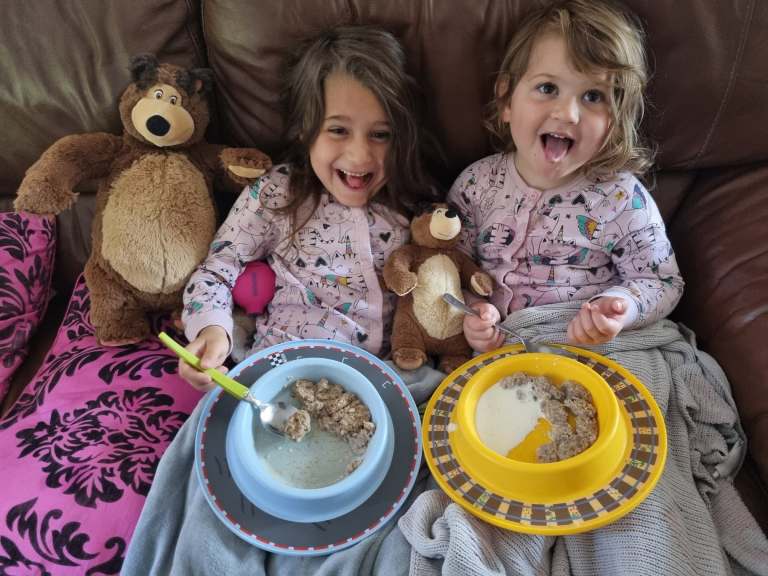 My Balancing Act
This fantastic review from Rowena and her son Sam – the faces behind the brilliant parental blog My Balancing Act – is another must-read:
"The Masha and the Bear Winter Bear Tree House is a great toy for girls and boys… As you probably know if you read my blog I'm a big fan of imaginative play and this little bear house comes with an articulated Masha figure and an articulated Bear figure, who is wearing his Christmas Santa hat! The set also comes with furniture including the armchair and TV."
Read the full review here.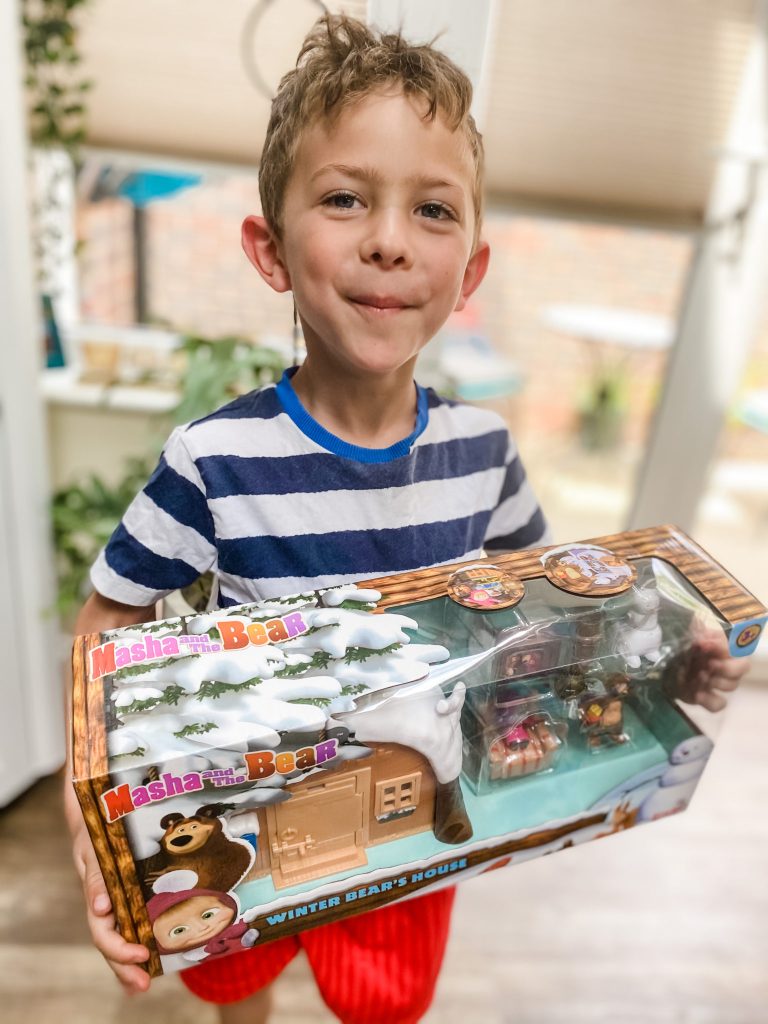 A picture says a thousand words!
Here are some of our favourite influencer snaps! The kids look like they're having heaps of fun with their new Masha and the Bear toys…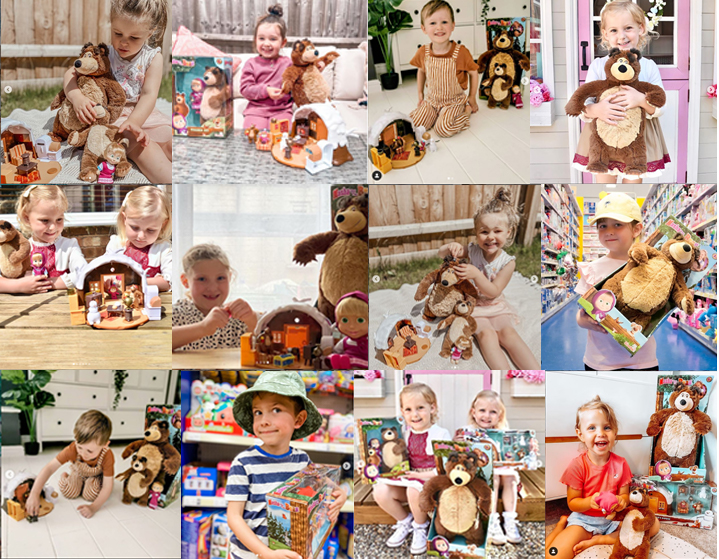 Love the look of the Masha and the Bear collection? It's available now from Smyths Toys Superstores, Amazon, The Entertainer, Very, and many independent toy stores.
For lots more fun from Masha and the Bear, including a chance to win an awesome Masha Doll and Bear Plush Toy Bundle, head to the main takeover hub now!