At UKMums.TV we're in the midst of our Little Brian Paint Sticks takeover with Trends UK!
By now, you will have learned why we love Little Brian Paint Sticks so much at UKMums.TV HQ! Designed to be used just like a glue stick, Little Brian Paint Sticks contain solid, colourful, water-soluble paint that you literally twist up and down! Super easy to use, Paint Sticks eliminate the need for water or brushes, offering families a fabulous, mess-free way to paint! What's more, they're super versatile and can be used on all kinds of surfaces, including paper, card, canvas, wood, and even glass!
It's fair to say that Little Brian Paint Sticks have our seal of approval here at UKMums.TV! But do top parental bloggers agree? Find out what they thought and take a look at some of their children's awesome Paint Sticks creations below…
The Coastal Mummy
Mum Rebecca and her family received a bundle of Little Brian Paint Sticks goodies to try out. Here's what she thought:
"Elsa, Cleo and Brody have used paint sticks before and they are well loved in our house. They use them on paper, cardboard, mirrors and their favourite, windows. There is no need for brushes, water and there isn't the usual mess that comes from paint.
The whole Little Brian Paint Sticks range is great for making arts and crafts for spring, Mother's Day and Easter. We will definitely be making some presents for family members this year using Paint Sticks!"
You can read the full review here.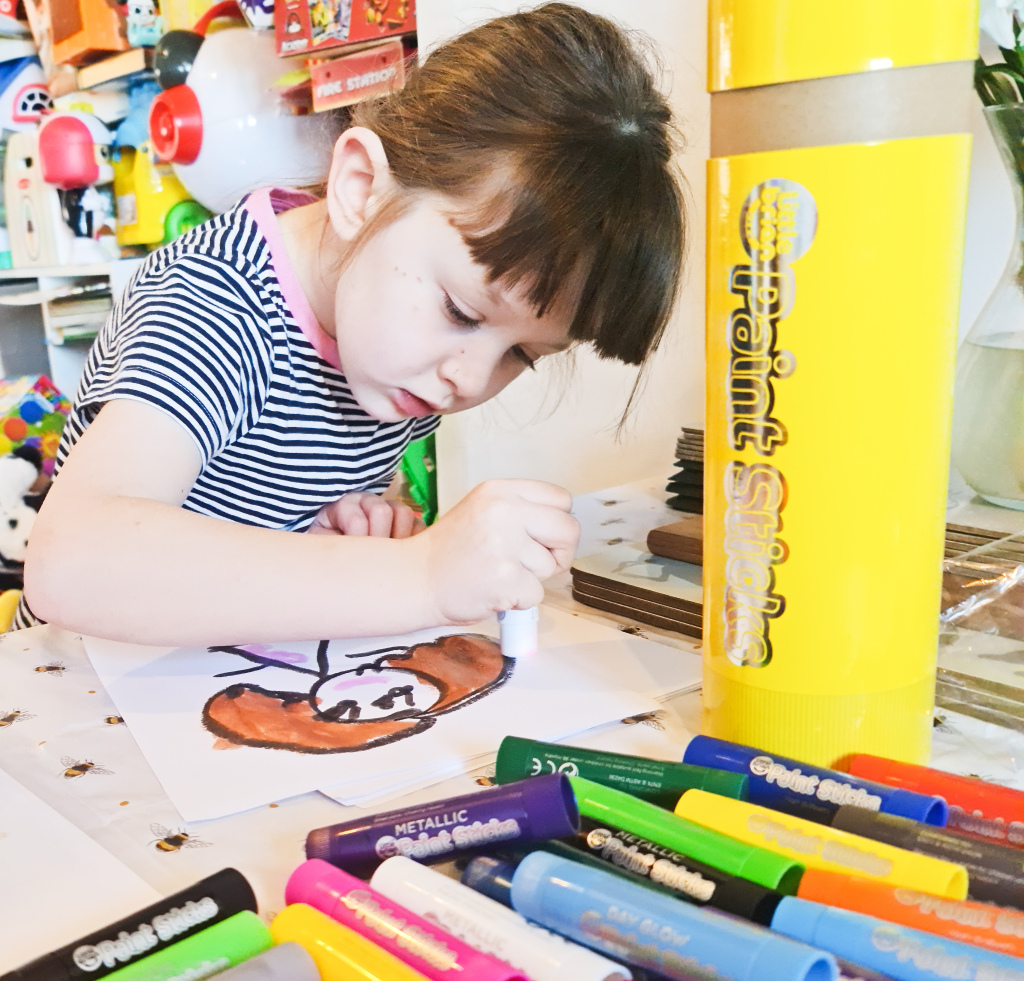 West Wales Family Life
Welsh parenting website West Wales Family Life was keen to review a selection of products from the Little Brian Paint Sticks range. When asked whether they would recommend Paint Sticks to other families. This was the response:
"OMG…. Yesssssssssssssssss So, I don't think we are on our own when we say we love the art making side a billion times more than the cleaning up stage and these Little Brian Paint Sticks are quite simply a game changer."
You can read the full review here.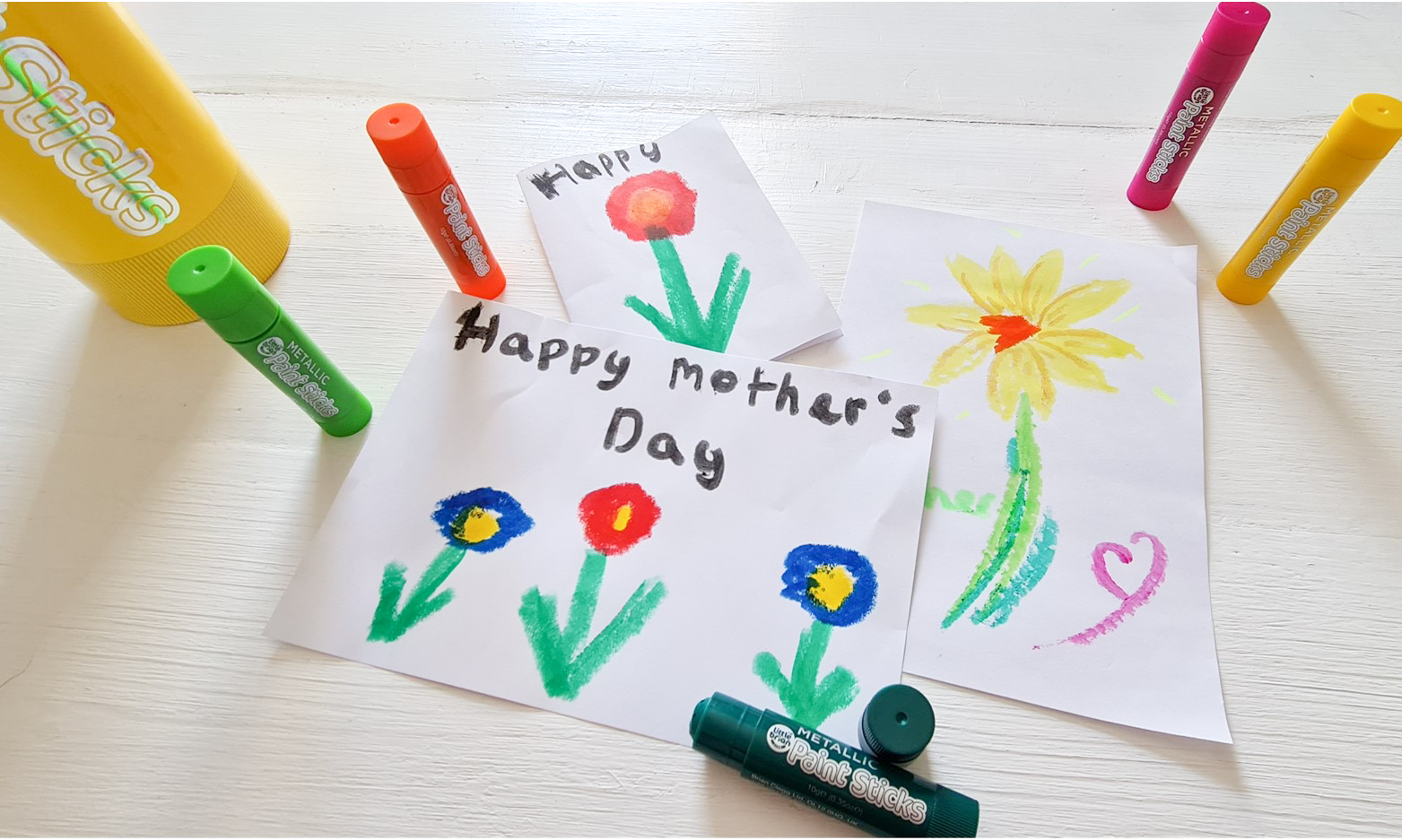 OddHogg
Kim, the family blogger behind the OddHogg blog, and her family put a selection of Little Brian Paint Sticks products to the test. Here's what she made of them:
"I was first introduced to Little Brian Paint Sticks in 2019. My kids were 1 and 3 and the thought of pulling out paints and messy around with brushes and water filled me with dread. From the first day we opened the Little Brian Paint Sticks I haven't looked back – we don't have any other paint in the house. They are pretty much exactly how they sound – paint in stick form. Made from recycled materials, they are similar to a traditional glue stick in design, making them super easy to use."
You can read the full review here.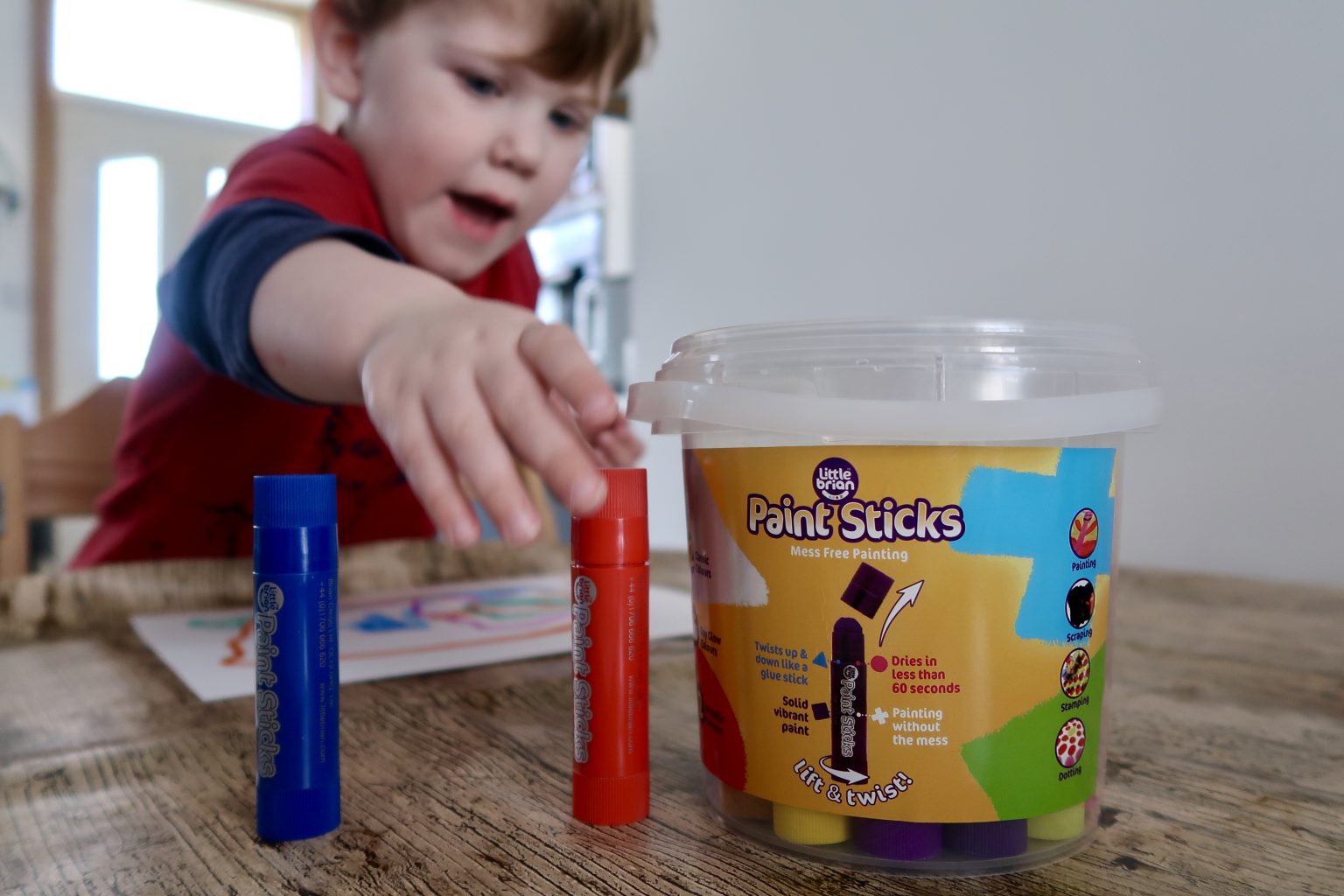 Run Jump Scrap!
Sarah, the mum behind the family lifestyle blog Run Jump Scrap, said:
"I was a tad nervous about painting the windows [with Paint Sticks] but yes they easily wipe clean! I had great fun making rainbows and the girls copied. You can get as creative as you want, knowing full well it doesn't matter and can be cleaned off.
Kids love this too as they think they shouldn't be doing it!"
You can read the full review here.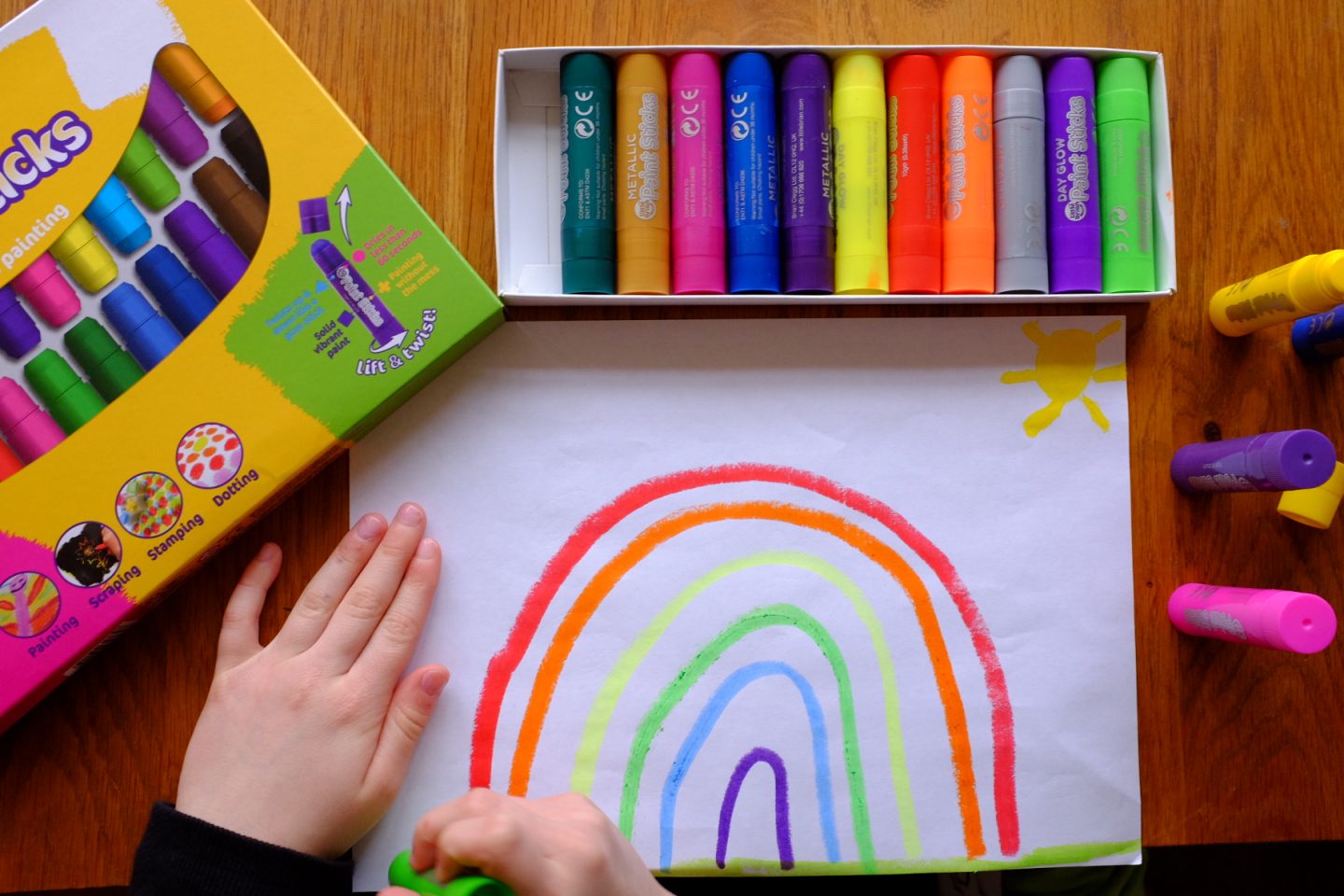 Keep up with the Jones Family
Mum Sara-Jayne and her family were already big fans of Little Brian Paint Sticks, so they were delighted to given the opportunity to create some more masterpieces ahead of spring! Here's a sneak preview of their Paint Sticks review:
"(Little Brian Paint Sticks) feel so good to use – so smooth, it's like using lipstick on paper, which is obviously what you don't want, but if you did, this is what it would feel like, haha. We love that you can leave the tops off and they don't dry out, you can create bright and beautiful artwork and they're so easy to store too. Our NHS rainbow has been on our front door since last March and hasn't faded at all! The boys also used them to create a big poster wishing their old headmaster an enjoyable retirement, and it looked amazing."
Read the full review here.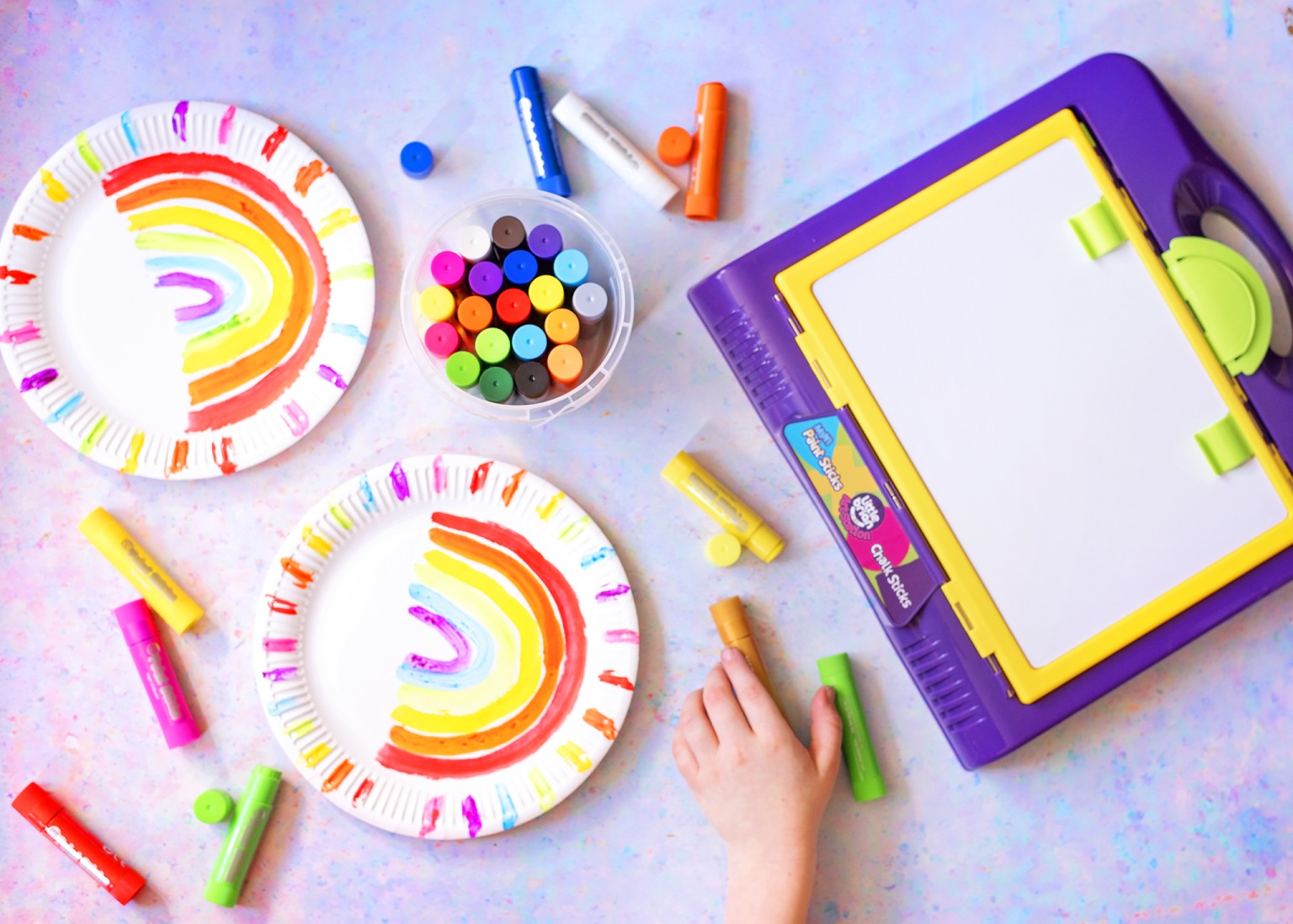 If you have yet to discover our Little Brian Paint Sticks competitions and our Paint Sticks product guide, be sure to head back to the main takeover page by clicking here. Alternatively, if you want to shop the Little Brian Paint Sticks collection from Trends UK, head to Argos, Smyths Toys Superstores or Amazon.