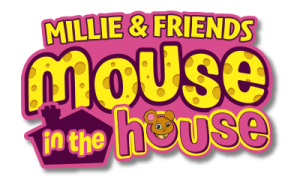 Shall we let you in to a little secret? There's a whole new world waiting to be explored behind the skirting boards!
And, this week, Character Options has taken over to invite you all to step into Mouseville – the magical world of Millie & Friends Mouse in the House!
Pst… what we're about to tell you is top secret! You mustn't tell anyone. Not even a squeak! Well, okay, maybe just your family…
Over the course of the next week, you can expect to find out all about the must-have new toy collection, as well as the unmissable YouTube webisodes, which bring to life the wonderful world of Mouse in the House. We'll have some real mum reviews to share, and a chance to win the big cheese of all hotels… The Stilton Hamper Hotel Playset from the Mouse in the House Collection.
Be sure to join the #MouseInTheHouse takeover today to make sure you don't miss a thing!