Outdoor play has so many physical and psychological benefits for children. The extra space and freedom it provides give children the opportunity to have adventures and explore in a way that's not possible indoors. Through these experiences, children develop many essential skills, connect with the natural world, and create lasting memories of their childhood adventures.
In today's increasingly digital world, where screens dominate leisure time, it's crucial to recognise the importance of outdoor play and the positive impact it has on children's overall well-being.
From outdoor water play to lawn games, there are so many exciting ways to entice the kids outside. Our friends at the Good Play Guide have put together a selection of fantastic outdoor play ideas.
Why Kids Love Playing Outside
The great outdoors offers an array of stimulating and enriching experiences for children.
They can explore and interact with the world around them in a more tangible and multisensory way. Feeling the wind on their faces, hearing the birds chirping, smelling the freshly cut grass, tasting the berries from the hedgerows, and seeing the vibrant colours of nature, all inspire a sense of wonder and curiosity in children.
Being outside encourages many different types of play and therefore appeals to many children.
Some may prefer to be physically active, playing team games or hide and seek. Some may create imaginary scenarios on their own or with friends. While others prefer to engage in nature-based activities such as rock collecting or insect spotting.
The allure of the outdoors lies in the many different opportunities for play that it offers. It really is a blank canvas.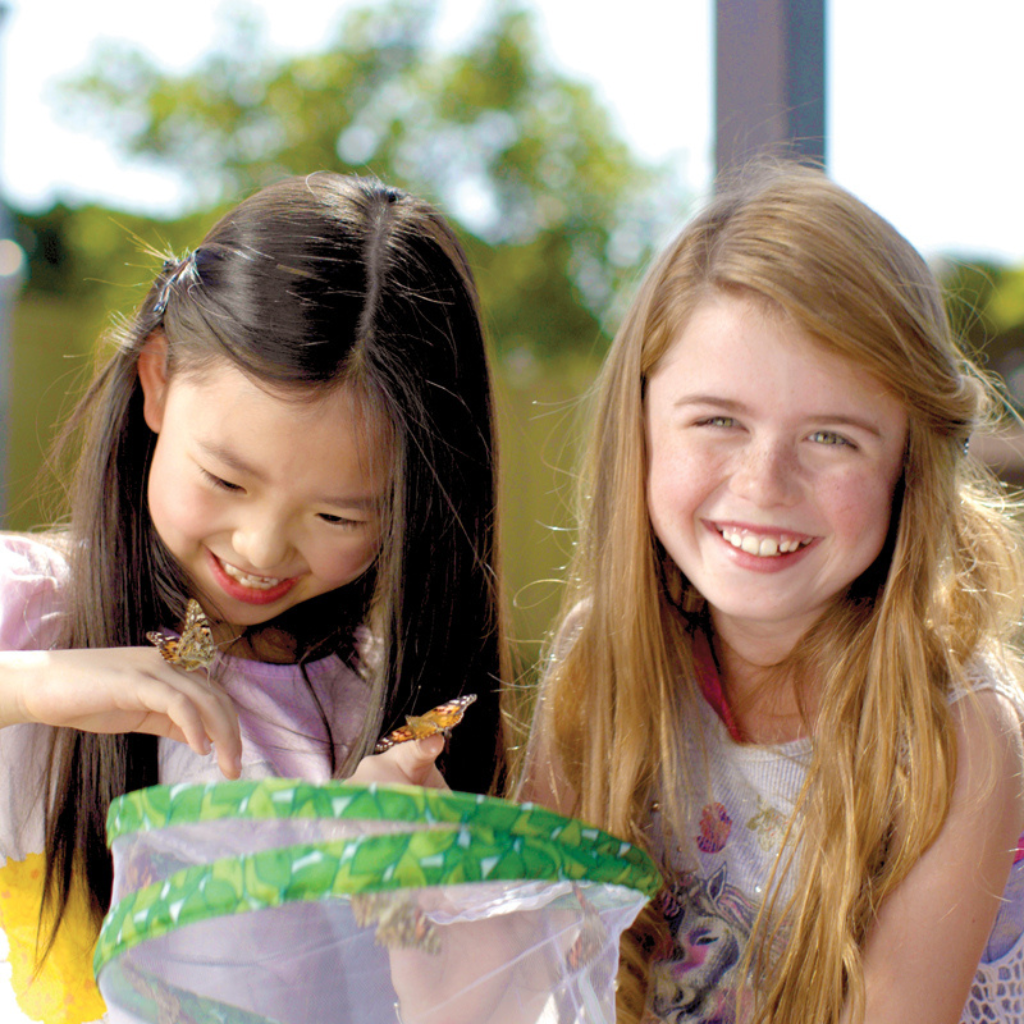 How Outdoor Play Helps a Child's Development
Playing outside helps children's development in numerous ways. Here are some of the many benefits:
• Promotes Physical Health
Playing outside encourages children to be physically active.
Running, jumping, climbing and playing games like tag help to prevent childhood obesity, strengthen bones and muscles, and improve cardiovascular health. These activities also help to develop children's gross motor skills, coordination and balance. Just being outside, even if not particularly active, may also lower children's chances of developing short-sightedness (Myopia), while a small amount of safe sunlight exposure helps to boost vitamin D levels and support the development of a strong immune system.
• Outdoor Play Inspires Imagination and Creativity
The outdoors provides an unstructured environment that stimulates children's imagination and creativity. Nature itself becomes a canvas for imaginative play, where sticks transform into swords, stones become a treasure, and trees morph into magical castles. Outdoor spaces encourage open-ended play where children can unleash their creativity, making up stories and pretend scenarios – endless possibilities!
• Enhances Emotional Wellbeing
Natural settings have a calming effect on the mind and help us to feel relaxed and happy. Exposure to sunlight increases serotonin levels, a neurotransmitter associated with mood regulation which can help alleviate symptoms of anxiety and depression. Outdoor play also provides an opportunity for children to release pent-up energy and aggression, while the freedom to explore, take risks, and play in an unstructured way helps children to develop a sense of independence, confidence and resilience.
• Improves Social Skills and Communication
Outdoor play naturally encourages a lot of social interaction.
Communication skills are honed as children share their thoughts, ideas and feelings with each other. As they play games, team sports and engage in imaginative play with their friends, they are learning about cooperation, negotiation and conflict resolution. They also need to share, take turns and respect each others' boundaries; all important life skills to learn.
• Encourages Problem-Solving and Risk Taking
As children explore the outdoors, they encounter natural obstacles, uneven terrain and unpredictable situations. By being presented with challenges and opportunities to take risks, children learn how to assess risks, make decisions, and adapt their actions accordingly. These trial-and-error experiences teach children resilience and perseverance, and by overcoming problems and uncertainties, they become more confident in their abilities and more positive about overcoming future challenges.
• Teaches Environmental Awareness
Spending time outside nurtures children's appreciation and understanding of the natural world. They gain knowledge about the environment, such as plants, animals, seasons and the weather, through first-hand valuable experiences, which is always the best way to learn. This early connection with nature can lay the foundation for lifelong respect and care for their environment and the planet as a whole.
• Builds Cognitive Development
The natural environment offers a myriad of sensory experiences that all contribute to brain development, such as feeling different textures, observing colours and patterns, and listening to the sounds of nature. When playing outside children also have to think critically, make decisions and adapt to changing situations, as they navigate obstacles, invent games and negotiate with their peers.
This means their cognitive abilities are being challenged which helps to develop them further.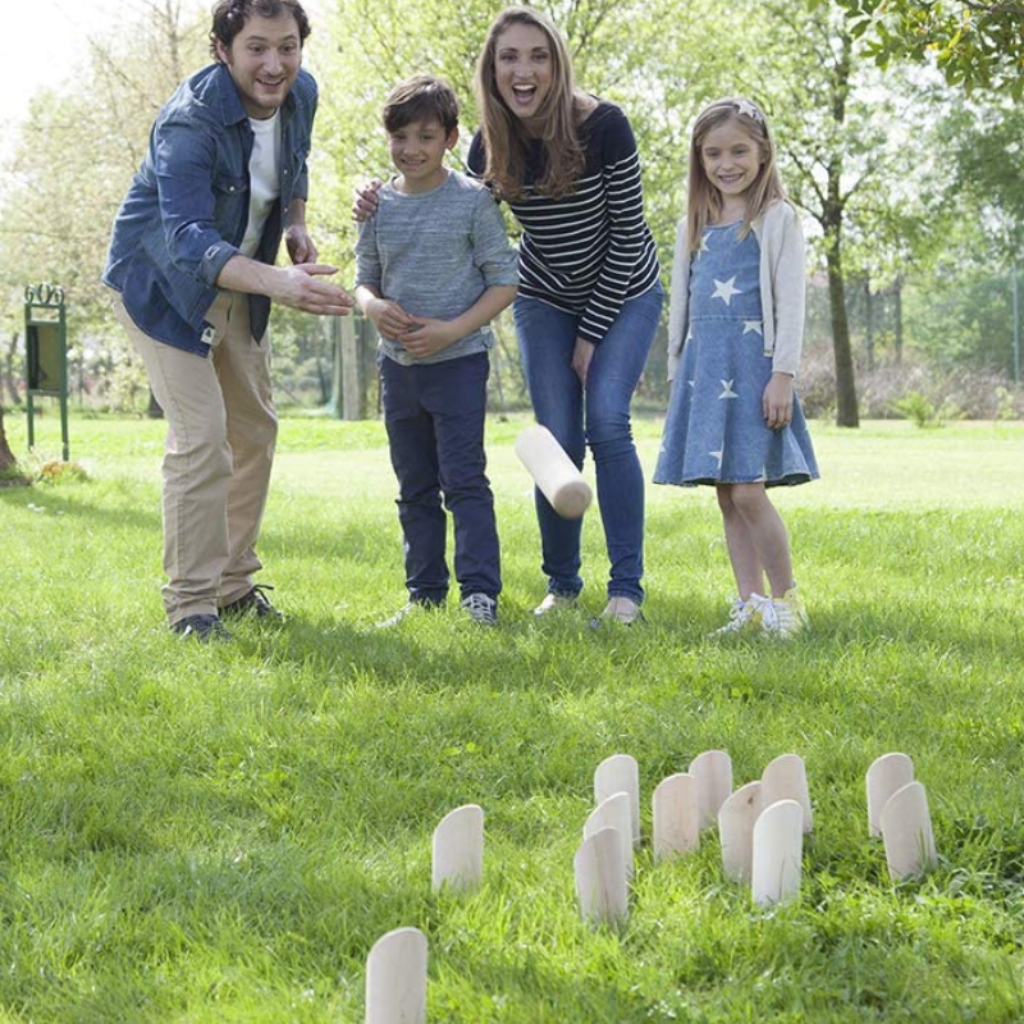 ---
Outdoor Play Toys Recommended By the Good Play Guide
Dr Gummer's Good Play Guide is an independent, expert organisation, dedicated to ensuring every child develops the skills they need to thrive during a happy healthy childhood.
Founded by child development expert Dr Amanda Gummer in 2012, the Good Play Guide provides independent, expert accreditation for children's products. And is a trusted resource for parents and gift-givers alike.
All Good Play Guide reviews are independent and based on real feedback from children, parents, and childcare professionals. Our experts review and rate each product using the five-star system below!

There are so many fantastic Good Play Guide accredited construction toys – here's a selection: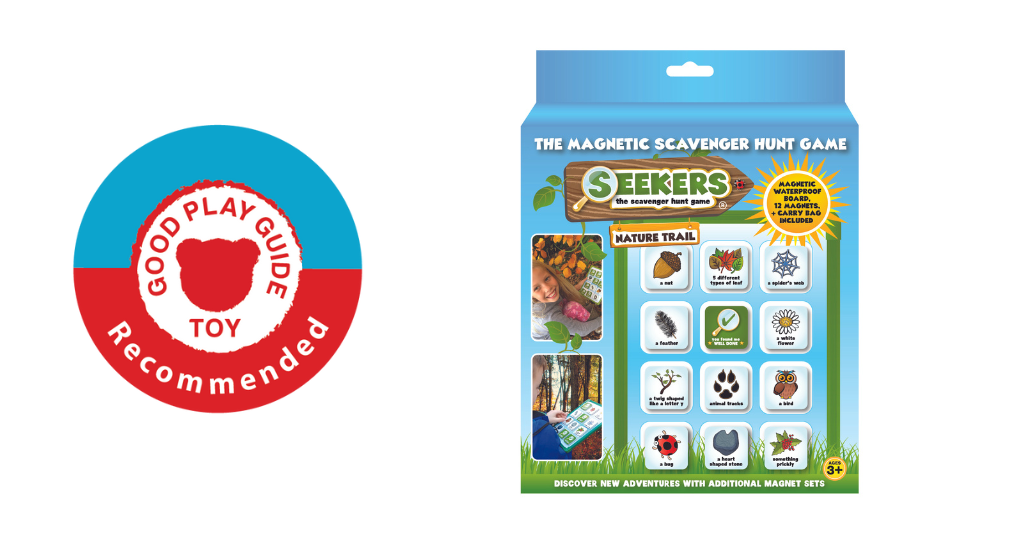 Seekers Scavenger Hunt Starter Kit
Price: £15.47
Age: 3-8 years
The Seekers Scavenger Hunt Starter Kit is a magnetic, waterproof board with 12 reversible 'Nature Trail' magnets, ideal for a general outdoor scavenger hunt.
What Our Experts Think:
This is a lovely, sociable game, especially for encouraging children to work together and take turns. We found the magnetic board was perfect for little hands and easy to use. Our testers enjoyed it and it quickly led to them finding other things that were not on the board, which was great for developing their observation and recognition skills.
The children also used the magnets in their literacy – they enjoyed sounding out the words underneath each picture phonetically as well as using the objects they had found to make up a story.
Read more about the Seekers Scavenger Hunt Starter Kit on the Good Play Guide.
Good Play Guide Rating:
Fun: 5/5

Educational: 4/5

Ease of use: 5/5

Butterfly Garden
Price: £21
Age: 3+ years
Insect Lore's Live Butterfly Garden gives children the opportunity to learn about the life cycle of a butterfly by raising them in their own home.
Children can watch over a 3-5 week period as the baby caterpillars transform into chrysalides and finally emerge as Painted Lady butterflies.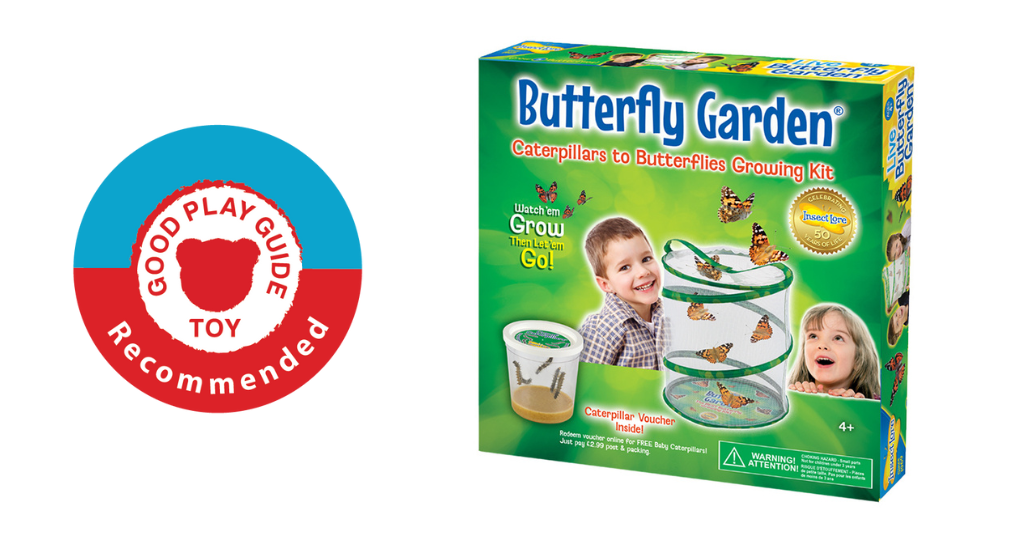 What Our Experts Think:
This kit is great for encouraging children to explore and learn about the metamorphosis of a caterpillar into a butterfly.
It was surprising how small the caterpillars were, but it was great to see how quickly they grew as this was noticeable day by day.
The life cycle was short enough to keep the children interested and we liked that the information sheet told us how to handle them and what to look for when they were ready to move onto the next stage.
Read more about the Butterfly Garden on the Good Play Guide.
Good Play Guide Rating:
Fun: 5/5

Educational: 4/5

Ease of use: 4/5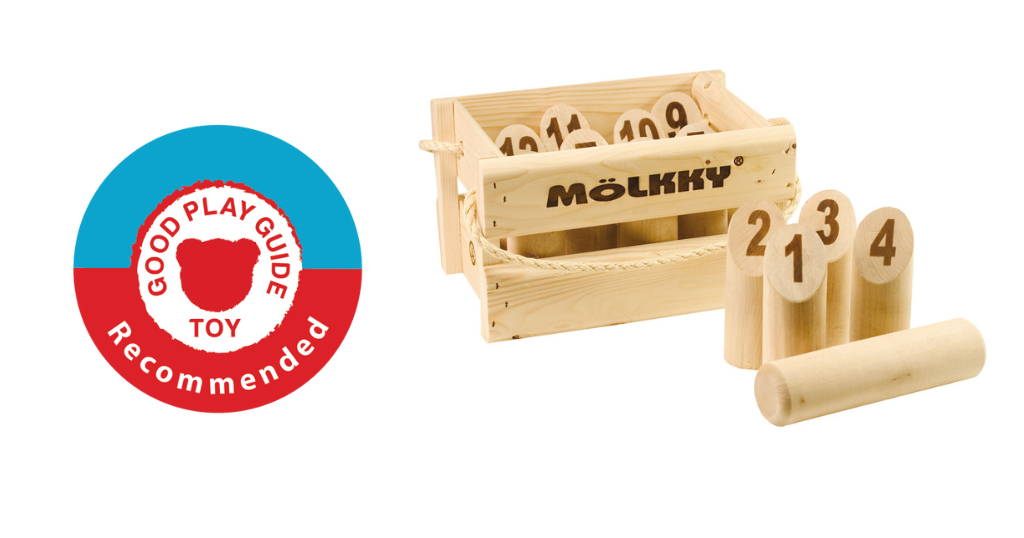 Molkky
Price: £34.99
Age: 6+ years
Molkky consists of twelve wooden pins, numbered one to twelve, which are arranged in a close group.
The first player hurls the throwing pin at these numbers with the aim of reaching a score of 50 first. Each time the pins are knocked down, they are stood up again for the next player BUT in the position they fell in!
What Our Experts Think:
Molkky is a great game for all ages – perfect for a family gathering as young and old can play alongside each other.
Our younger testers enjoyed knocking over the skittles, which promotes hand-eye coordination and aim, and the older ones enjoyed working out their totals and what they were required to knock down to reach their target – building on numeracy and counting skills in a fun and active way.
Read more about Molkky on the Good Play Guide.
Good Play Guide Rating:
Fun: 4/5

Educational: 4/5

Ease of use: 5/5

EcoSplat Reusable Water Balloons
Price: £21.99
Age: 3+ years
Can you imagine endless water fights with no rubbish to pick up?
EcoSplat Reusable Water Balloons keep the kids splashing and playing all afternoon with no queuing at the tap, no tricky tying, and no rubbish to pick up!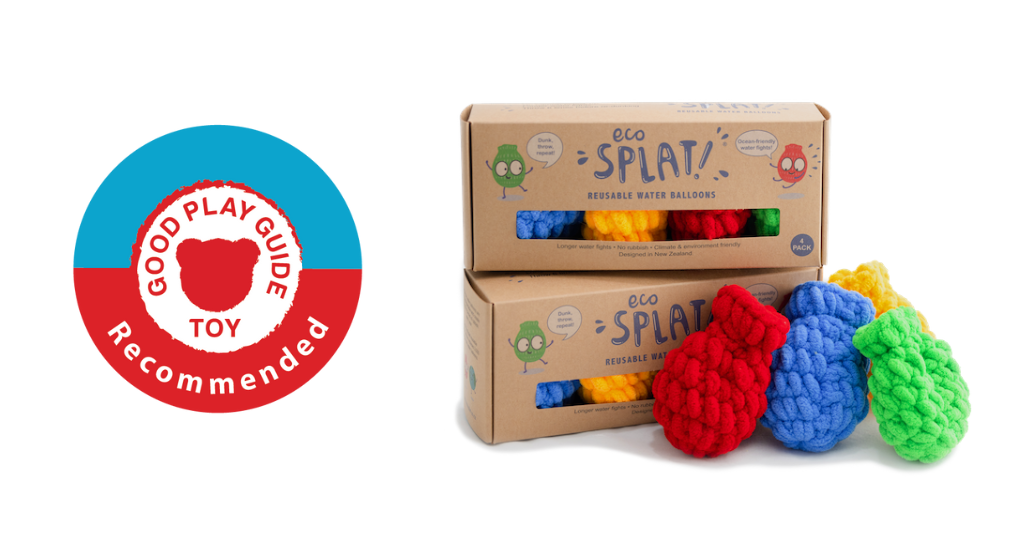 What Our Experts Think:
These Eco-Friendly water balloons were a big hit with our testers – children and adults alike! The children found them really easy to fill up and use, and liked that it didn't hurt when you got hit by one.
For the adults, the no mess and reusable aspect was a big selling point. The bright colours appealed to the children, and the shape made them easy to hold and throw, helping to develop children's hand-eye coordination, fine and gross motor skills.
Read more about EcoSplat Reusable Water Balloons on the Good Play Guide.
Good Play Guide Rating:
Fun: 4/5

Educational: 3/5

Ease of use: 5/5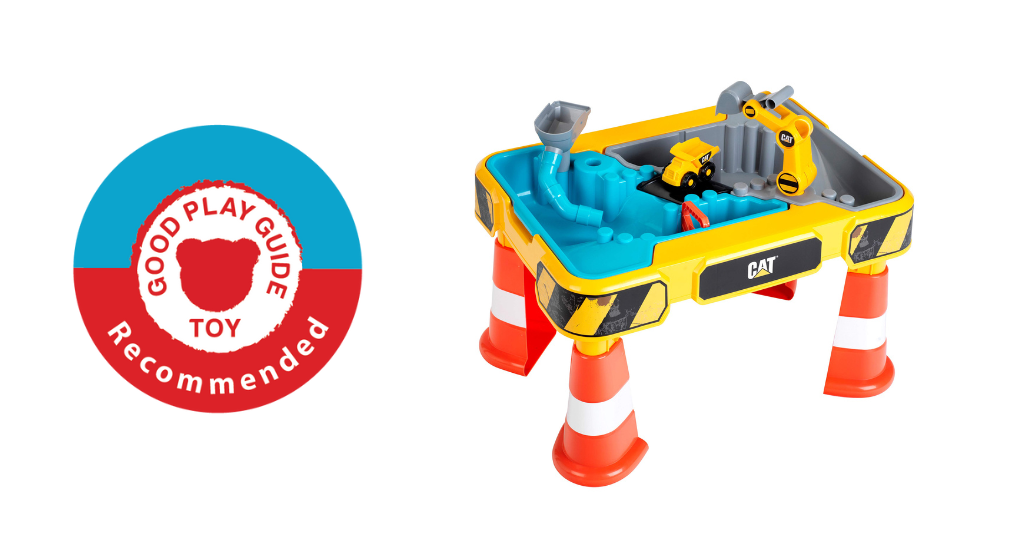 CAT Sand and Water Play Table
Price: £68.86
Age: 2-5 years
Explore the amazing properties of sand and water with the different features of this CAT play table!
What Our Experts Think:
This sand and water table is great for getting children involved in outdoor, sensory play and encouraging their creativity.
Experimenting with different textures stimulates the senses and aids cognitive development – the children loved taking turns pouring water and picking up sand in the digger. This teaches them about cause and effect as they learn what happens when they mix sand and water and move materials from one place to another.
Read more about the CAT Sand and Water Play Table on the Good Play Guide.
Good Play Guide Rating:
Fun: 4/5

Educational: 4/5

Ease of use: 4/5

Xootz Bubble-Go Scooter
Price: £49.99
Age: 3+ years
Perfect for children over 3, the Xootz Bubble Go Scooter is a new way for kids to have fun. with a twist on the classic bubble scooter.
The front-mounted bubble machine lets your child enjoy the bubbles whizzing past them as they're scooting around.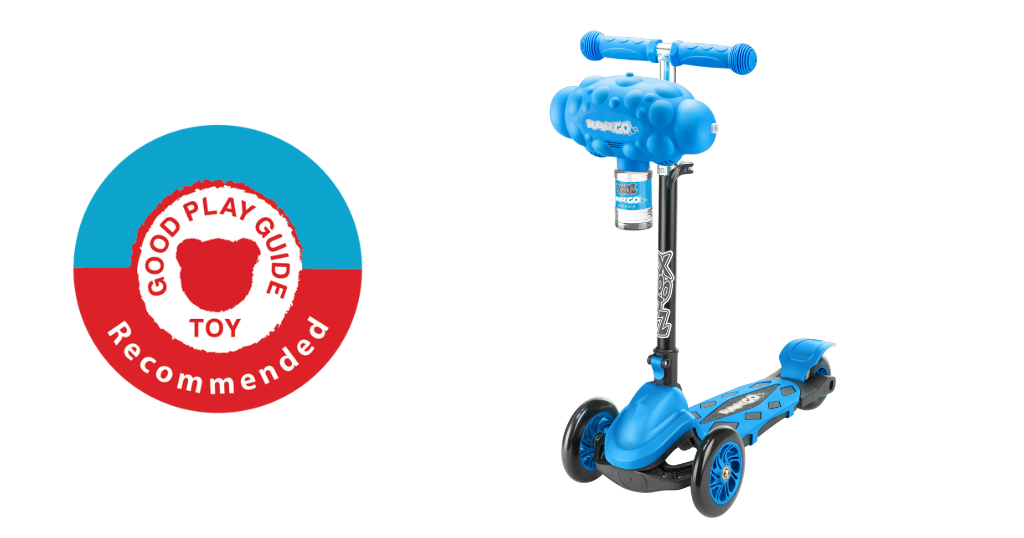 What Our Experts Think:
Our young testers found this scooter easy to ride with its wide footplate and sturdier 3-wheeled style. They loved being the envy of their friends watching them ride a scooter while blowing bubbles out behind them.
Our older testers were impressed with the number of bubbles produced by the scooter. They liked that it was easy to adjust the height making turn-taking between different-sized children a breeze.
The Bubble-Go scooter is great for developing children's physical and gross motor skills.
Read more about the Xootz Bubble-Go Scooter on the Good Play Guide.
Good Play Guide Rating:
Fun: 4/5

Educational: 3/5

Ease of use: 5/5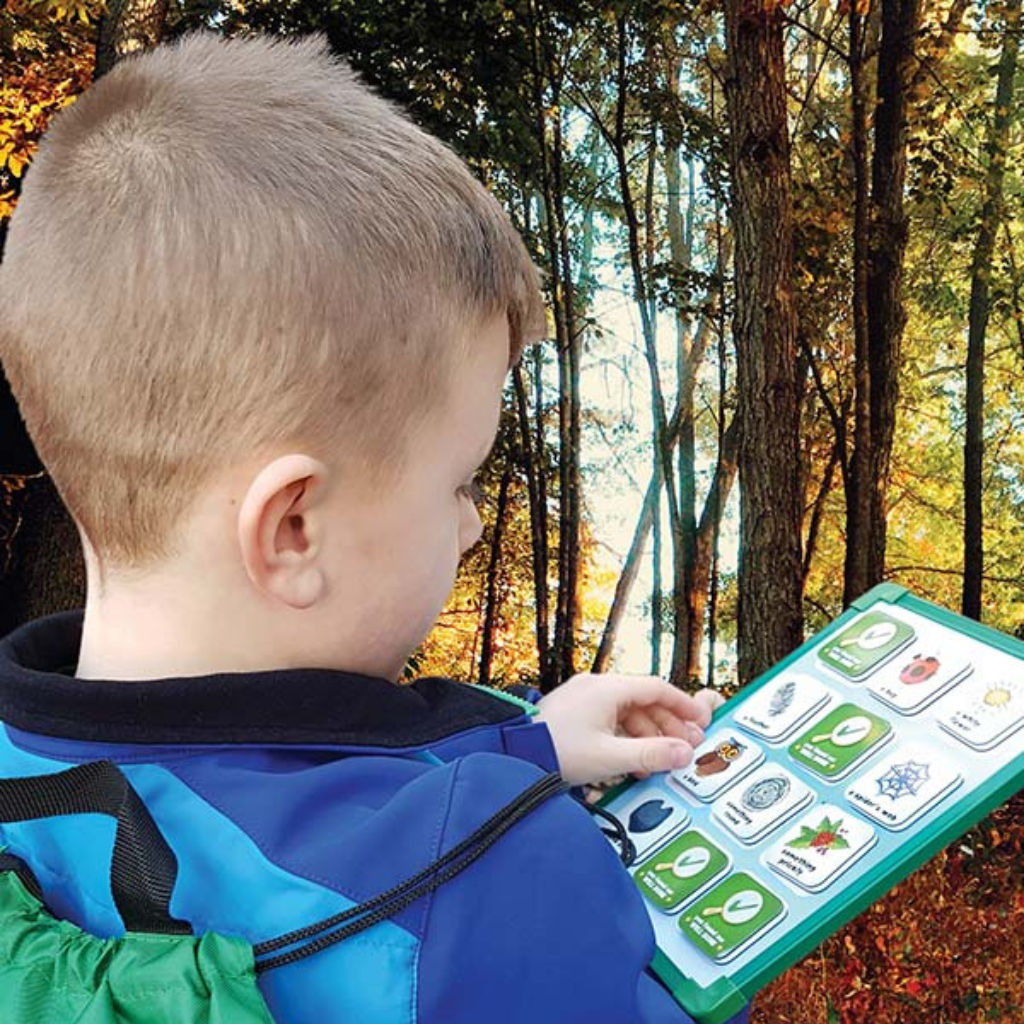 In Conclusion
Playing outside offers a holistic approach to child development and the benefits are undeniable. By encouraging children to venture outside, we empower them to grow, explore, and thrive in a world that extends far beyond the confines of a screen.
And remember, there's no such thing as bad weather, only unsuitable clothing.
So get those wellies and waterproofs on and go outside!