Looking for some vegan inspiration for Veganuary? Here's a little round up of our favourite Veganuary recipes.
A Few of Our Favourite Veganuary Recipes
Whether you choose to eat a plant-based diet 365 days a year, or you're just dipping your toe in, for Veganuary, there are some really lovely vegan recipes out there.
We thought we'd share a few of our favourites.
These delicious, heartwarming meals certainly won't have you missing meat, that's for sure!
Try them out and let us know what you think, in the comments below…
Ultimate Black Bean Burgers
A burger with health benefits – what's not to love?
As well as packing in at least 2 of our 5-a-day, these burgers come with a delicious dose of plant-based protein and fibre. The granola helps bind the burger together whilst adding in a source of slow-release carbohydrates and fibre.
This recipe uses Lizi's Granola but you can use whichever brand you prefer. You can even make your own if you like.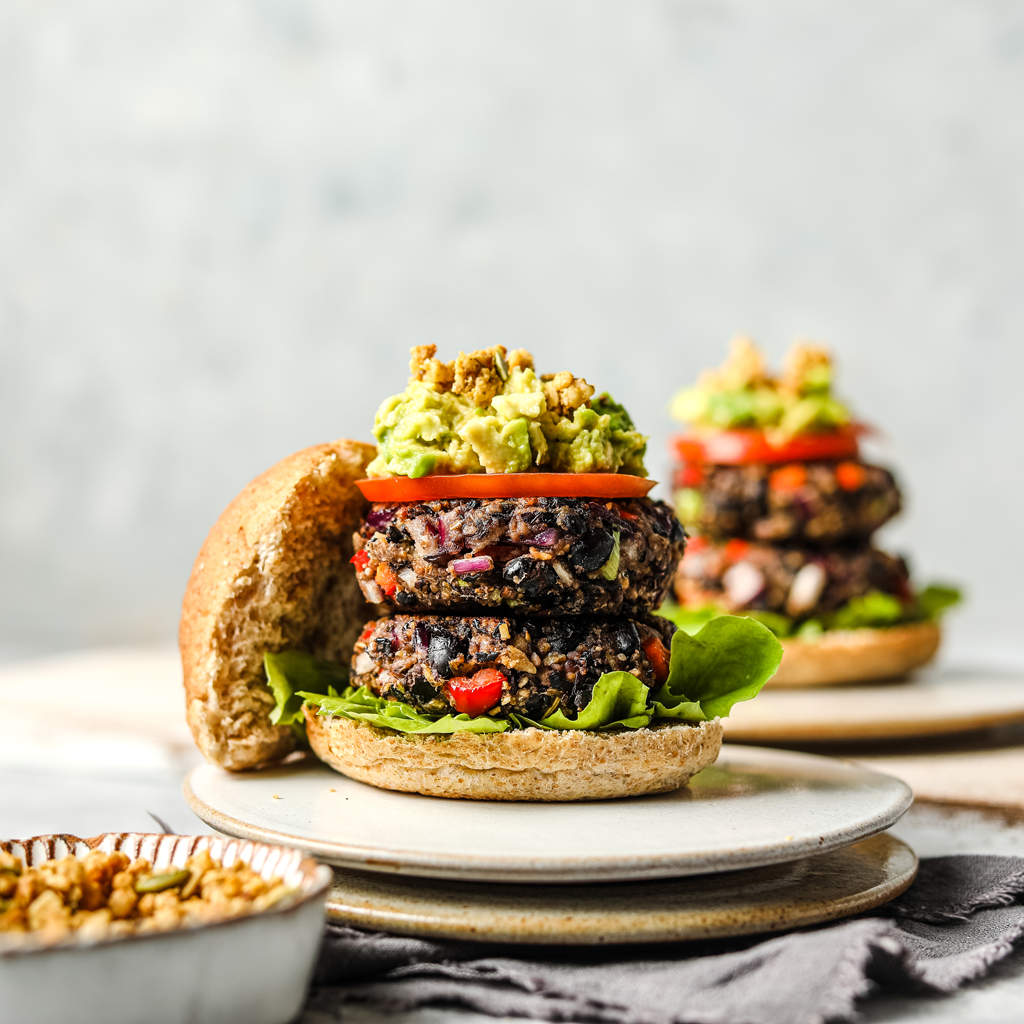 Serve in a wholemeal roll for that extra nutrient hit, and why not try smashed avocado as a perfect creamy mayonnaise replacement.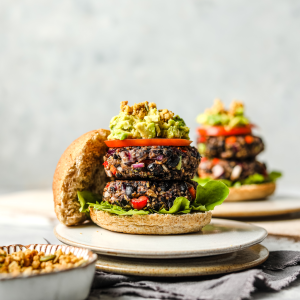 Ultimate Black Bean Burgers
These delicious vegan burgers come with a delicious dose of plant-based protein and fibre. One of our favourite Veganuary recipes.
Ingredients
For The Burger
½

red onion

finely diced

1

can

black beans

drained and rinsed

1

garlic clove

1

flax egg

or aquafaba

½

red chiilli

finely diced

½

red pepper

diced

1

tbsp

plain flour

2

tbsp

Lizi's Original Granola

blended into crumbs

1

spring onion

finely chopped

1

tsp

mixed herbs
To Serve
2

wholemeal rolls

½

avocado

mashed

1

tomato

sliced

1

medium sized

lettuce
Instructions
Method
Begin by placing the drained black beans into a large bowl and mashing roughly half of them.

Into the same bowl, add in the diced red onion, pepper, chilli, garlic clove, flax egg, plain flour, Lizi's Original Granola, chopped spring onion and mixed herbs.

Combine the ingredients and then using your hands, form into 2 large or 4 small patties. Place the patties onto a lined tray, cover and place in the fridge for 1 hour to set.

When ready to cook, heat a non-stick pan or a normal pan with a drizzle of oil on medium heat.

When hot add in the burgers and cook for a couple of minutes before flipping over.

Repeatedly flip every 2 minutes until they are cooked the whole way through, to avoid burning.

Once cooked, stack in the burger buns with lettuce, sliced tomato, mashed avocado and some extra granola for added crunch. Enjoy!
Tofu Thai Green Curry
A chicken Thai green curry is a weekly staple at UK Mum's TV editor Caro's house! This delicious recipe from Alpro brings all the taste of a Thai green curry sauce, using plant based alternatives to yoghurt and chicken.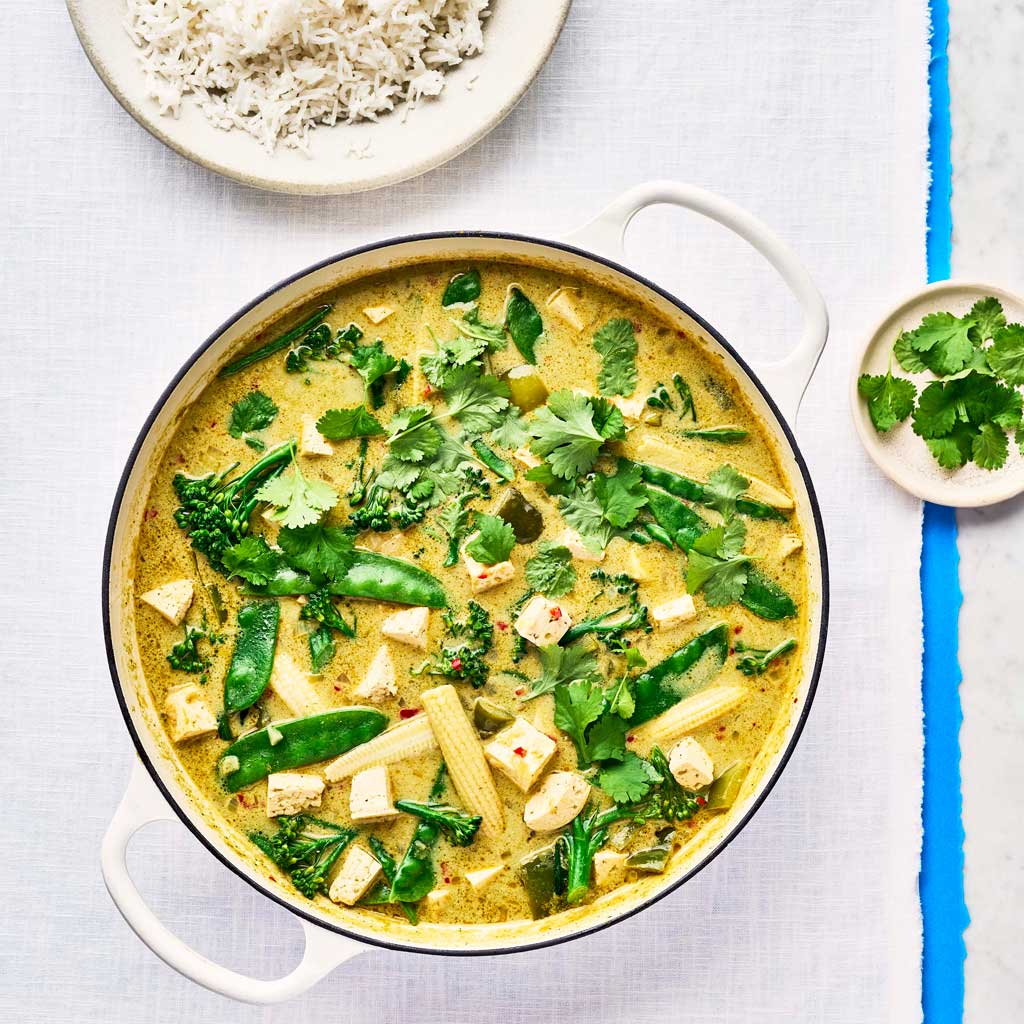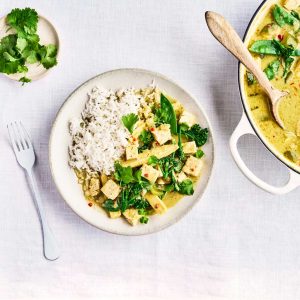 Tofu Thai Green Curry
This delicious Thai Green Curry substitutes Tofu for chicken and one portion gives 2 of your 5 a day!
Ingredients
Ingredients
1

onion, diced

1

red chilli, deseeded and finely diced

3

tbsp

green curry paste 

400g

firm tofu, chopped into cubes 

Steamed basmati rice, to serve (160g cooked portion per person)

1.5L reduced salt vegetable stock

300ml Alpro Coconut No Sugars drink 

200g Tenderstem broccoli, cut into smaller pieces

100g baby corn, halved

150g mange tout 

1 green pepper, chopped 

200ml Alpro Plain plant-based alternative to yogurt

Handful finely chopped fresh coriander, to serve
Instructions
Method
Fry the onion in the oil over a medium heat for 2–3 minutes.

Add the chilli and fry for 1 minute. Stir in the curry paste and fry for 1 minute.

Next, add the tofu and stir until well coated. 

Meanwhile, cook the rice according to the packet instructions. 

Pour in the hot stock, Alpro Coconut No Sugars drink and vegetables into the pan with the curry paste and bring to the boil before reducing to a medium heat for 5 minutes. 

Finally stir through the Alpro Plain plant-based alternative to yogurt in the curry for a further 1-2 minutes without bringing to the boil.

Serve the curry with the rice, sprinkle with coriander. 
Vegan Cinnamon Tear & Share Loaf
Finally, one for all those with a sweet tooth!
One of our favourite vegan recipes for Veganuary has to be this delicious Cinnamon Tear and Share Loaf.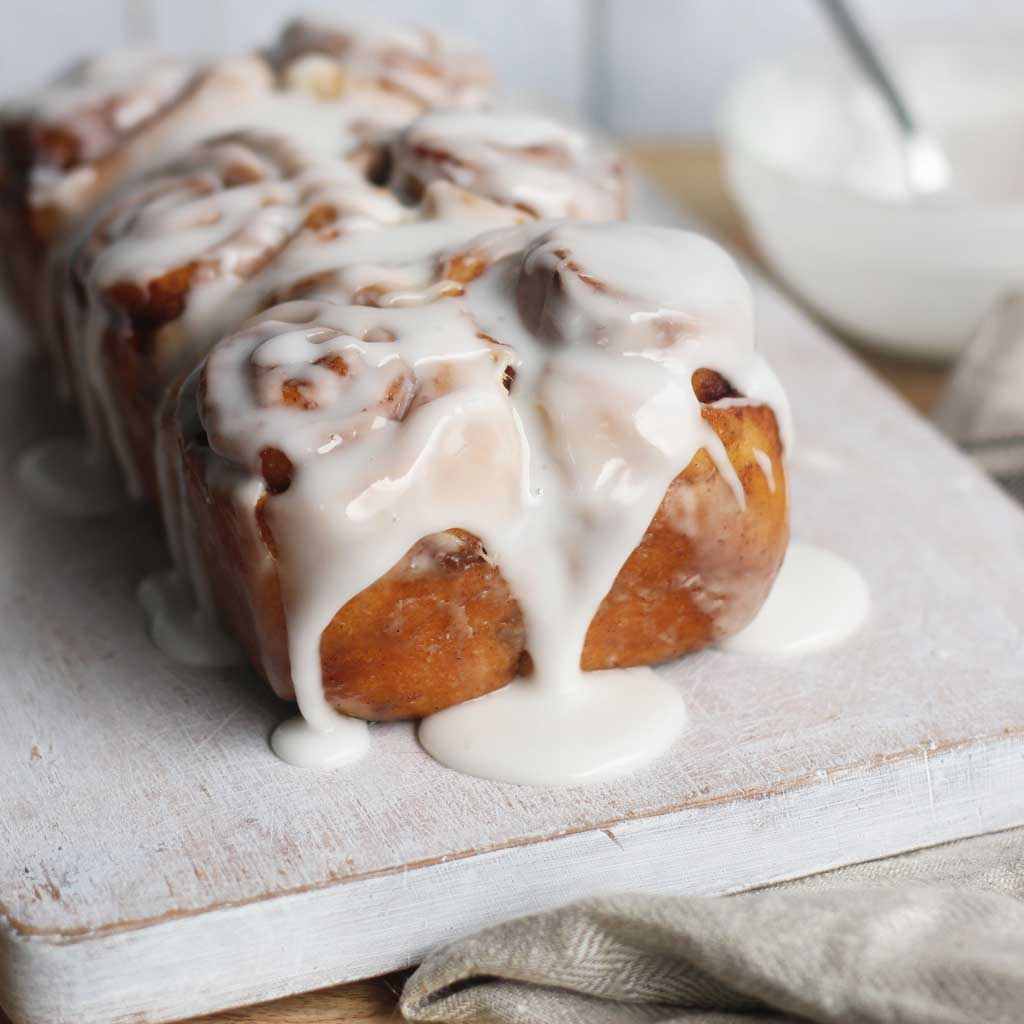 Sweet, doughy and very moreish — it's perfect with a cup of tea on a cold, winter's afternoon.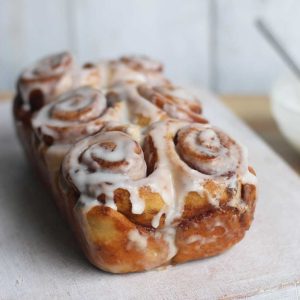 Vegan Cinnamon Tear & Share Loaf
A really delicious loaf — almost like a Chelsea bun in texture. Although it says 'tear and share' we defy you to share it!! It's too tasty!
Equipment
Measuring jug

Dessert spoon

Large mixing bowl

Rolling Pin

Loaf tin
Ingredients
Ingredients
200ml water

60g vegan spread (we used Vitalite) + extra for greasing

1 tsp fast action yeast

300g strong white bread flour

90g light brown sugar

1 tsp ground cinnamon

200g icing sugar
Instructions
Method
Put 30g of the vegan spread in the jug and melt in the microwave. Top up with 165ml of warm water from the tap and stir in the yeast with the spoon.

Combine the flour and 30g of light brown sugar in the large mixing bowl and pour in the yeast/water/butter mixture. Bring together to form a dough with your hands.

Tip the dough out onto a lightly floured surface and knead for 5 minutes, return to the mixing bowl, cover with a tea towel and leave to prove for 20 minutes. After 10 minutes, preheat the oven to 185°C (fan) and grease the loaf tin with vegan spread.

After the dough has proved for 20 minutes, tip it onto a lightly floured surface and roll it out into a 30cm x 30cm square. Spread the remaining 30g of vegan spread evenly over the dough with the back of the spoon, then sprinkle with the cinnamon and remaining 60g light brown sugar. Roll the dough into a sausage shape.

Divide the dough into 6 equal pieces (5cm each) and place into the greased loaf tin, spirals facing up. Bake for 20-25 minutes, turning the tin in the oven after 10 minutes.

Rinse the jug, measure 35ml cold tap water and mix in the icing sugar to make a glaze. Once the loaf has finished baking, allow it to cool slightly before removing from the tin and drizzling with the glaze.

Tear apart and enjoy!
Notes
Original recipe from the Easy Peasy Baking campaign, launched by UK Flour Millers, making baking simple. You can find more Easy Peasy Baking recipes and information on the campaign over on the Fab Flour website.
We think you'll love the above recipes — they're perfect for Veganuary.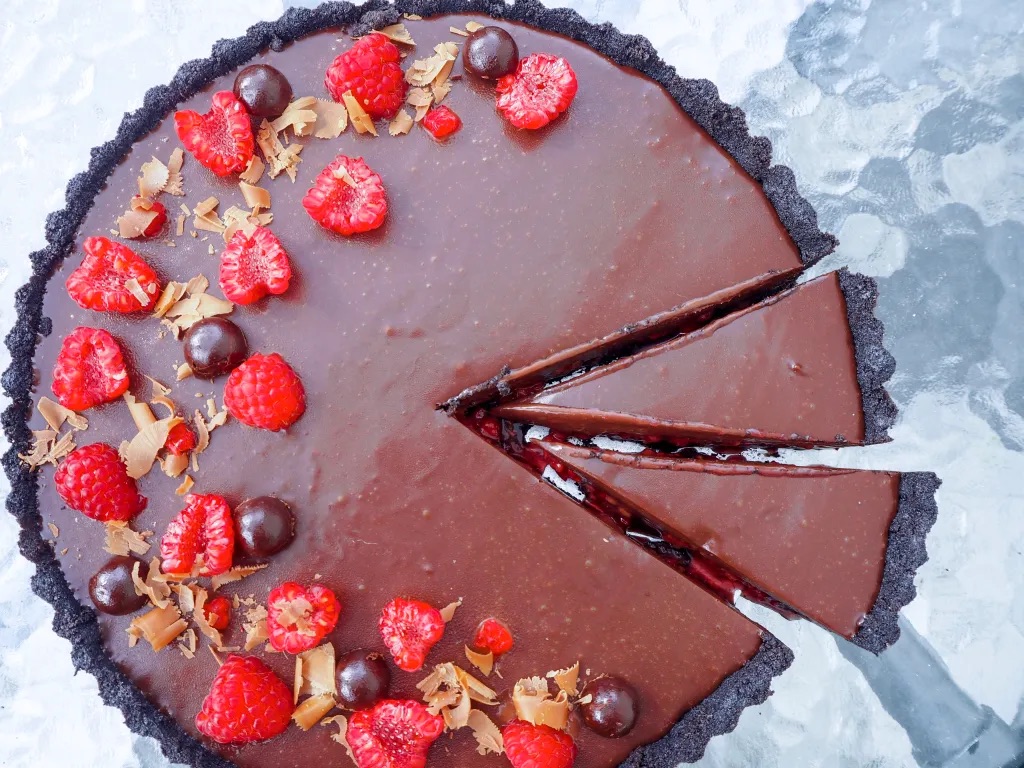 But if you were hankering after chocolate and were disappointed not so find some in this little line up — head over to check out our Vegan Chocolate and Raspberry Tart Recipe — an absolute showstopper of a dessert and — best of all — it's 100% plant based!
Enjoy!